On June 7, 2017, sixty-three (63) arbor vitaes were planted in Gillett at their Nicolet Trail Campground.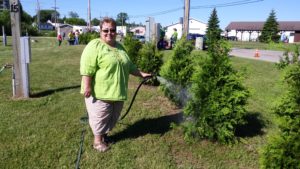 About 25 people assisted in the tree planting from the following groups: City of Gillett Mayor's Youth Advisory Board, Boy Scout Troop 1035, Gillett High School National Honor Society, American Transmission Company, Gillett Public Works Crew and the DNR.  A lunch was provided by the Gillett Business Association and Thrivent Financial for all of the tree planters.
For more information contact Ellen Clark (EllenA.Clark@Wisconsin.gov), Urban Forestry Communication Specialist, at 608-267-2774.
(Visited 127 times, 1 visits today)