To capture the concept of fire season in a tidy little package, it can be thought of as the time of year when wildfires are most likely to occur. A traditional fire season in Wisconsin begins in southern Wisconsin as the snow melts and moves progressively north, following snow melt further north and moving away from green up in the south. This is the case for Wisconsin this year. While trees are leafing out, people are mowing lawns, and morel mushrooms are appearing in southern Wisconsin, fire season is coming to an end.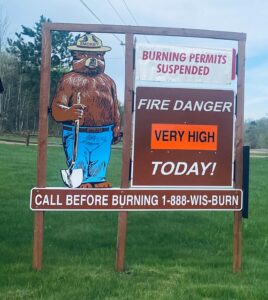 It's a different case in northern Wisconsin, with green up just beginning and fire season at its peak. In fact, the areas with sandy soil and an abundance of pine trees are at critical fire danger, particularly because of a phenomenon called the "spring dip" – a time when the moisture content of pine needles is low and starch content is high. When pines are in the spring dip, individual tree torching and crown fire in groups of trees is a very real possibility. This type of fire is the most challenging to contain and extinguish.
Warm temperatures, low humidity, and gusty winds forecasted for this week will keep fire danger elevated in northern Wisconsin. Several counties have suspended burning where the DNR has burning authority. Small campfires for warming or cooking are allowed but definitely not recommended until conditions improve.
Continue reading "Wildfire Season Makes Its Way To The Northwoods" →