To capture the concept of fire season in a tidy little package, it can be thought of as the time of year when wildfires are most likely to occur. A traditional fire season in Wisconsin begins in southern Wisconsin as the snow melts and moves progressively north, following snow melt further north and moving away from green up in the south. This is the case for Wisconsin this year. While trees are leafing out, people are mowing lawns, and morel mushrooms are appearing in southern Wisconsin, fire season is coming to an end.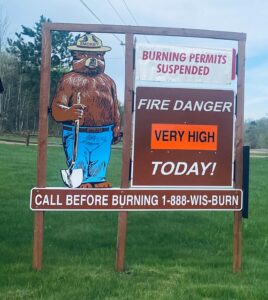 It's a different case in northern Wisconsin, with green up just beginning and fire season at its peak. In fact, the areas with sandy soil and an abundance of pine trees are at critical fire danger, particularly because of a phenomenon called the "spring dip" – a time when the moisture content of pine needles is low and starch content is high. When pines are in the spring dip, individual tree torching and crown fire in groups of trees is a very real possibility. This type of fire is the most challenging to contain and extinguish.
Warm temperatures, low humidity, and gusty winds forecasted for this week will keep fire danger elevated in northern Wisconsin. Several counties have suspended burning where the DNR has burning authority. Small campfires for warming or cooking are allowed but definitely not recommended until conditions improve.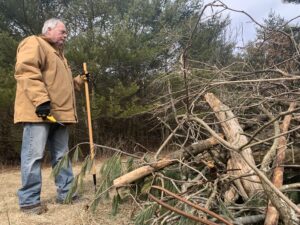 When you're outside doing yardwork, please consider alternatives to burning yard debris. Take the material to a community yard waste collection site, compost what you've collected, incorporate leafy material into vegetable garden beds or flower pots. The outdoor burning option should be put off until the surrounding vegetation fully greens up.
Fire control officials will be on high alert this week until the rain arrives. The DNR is pre-positioning equipment from the southern part of the state in the north for rapid response including access to two Wisconsin Army National Guard Blackhawk helicopters and two single engine air tankers. The DNR has responded to 284 wildfires burning more than 3,300 acres so far this year. Nearly half of these fires were caused by debris burning.
Remembering the Germann Road Fire
Large wildfires can still happen this time of year in Wisconsin, May 14th marked the 10-year anniversary of the Germann Road Fire in Douglas and Bayfield counties, which burned 7,499 acres and destroyed 104 structures, 23 of which were residences. An estimated 350 structures were saved due to fire control efforts. The fire began around 2:45 p.m. on May 14, 2013, and covered a swatch nearly 10 miles long and 1.5 miles wide before being declared 100% contained on May 15 at 9 p.m. 
Check current fire danger and burning restrictions on the DNR website.
(Visited 247 times, 1 visits today)