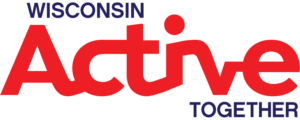 By Rob Fontella, fontella@wisc.edu, healthTIDE UW-Madison Public Health
As the weather gets warmer, Wisconsinites are getting out there and enjoying their community and the natural areas the state has to offer. Recently a new effort was launched to encourage communities in Wisconsin to become part of a campaign recognizing the community's efforts to promote active lifestyles.
Communities and apply to become a Wisconsin Active Together community. The regions, cities and communities will be recognized for their progress and commitment to making it easier to walk, bike and be active and supporting greater policy change to foster health so their communities can prosper. Learn more about this campaign, read the press release or visit the website. Wisconsin DNR also launched an effort, OutWIGo, statewide initiative encouraging everyone to improve their overall health and wellness by getting out and active in the outdoors. From waterfall hikes to trails for bikes, you can recharge or go far at one of Wisconsin's state park properties.
(Visited 150 times, 1 visits today)