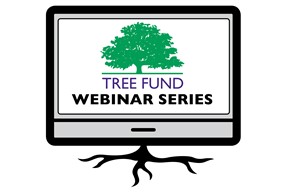 Check out the six upcoming webinars/webinar series listed below. Especially during this time of social distancing, webinars are a great training opportunity. Some of them even offer ISA CEUs when watched live (recordings of past webinars are also available but do not offer CEUs).
Click on the links below to learn more and to register in advance. Space may be limited.
Topic: Protecting trees from construction impacts
Date: June 23, 2020, 3 pm Central
Presenter: Andrew Benson, PhD
CEUs available (1.0 CEU per webinar; free)
Webinar description: With increased intensification in cities throughout the world, urban trees are often at risk of becoming damaged by construction impacts, such as utility trenching or pavement / sidewalk repair. If the damage is severe and a tree loses a lot of its roots, the consequences may result in tree failure, or tree removal due to subsequent poor health. In this presentation, we will look at some of the reasons why urban trees become damaged during construction and some of the more suitable methods available to prevent or limit that damage occurring. We'll also look at some recent research which aims to improve what we know about the consequences of construction damage effects, and hopefully provide some useful tools to practitioners who work with roots on a regular basis.
Topic: Enhancing Tree Health in Water Sensitive Urban Design: Role of Mycorrhizae
Date: July 14, 2020, 1 pm Central
Presenter: Brandon Winfrey, PhD
CEUs available (1.0 CEU per webinar; free)
US Forest Service "Urban Forest Connections"
Topic: TBA
Date: July 8, 2020, 1 pm Eastern
Date: August 12, 2020, 1 pm Eastern
CEUs available (1.0 CEU per webinar; free)
Series description: On the second Wednesday of each month, this webinar series brings experts together to discuss the latest science, practice, and policy on urban forestry and the environment. Links to past webinars are available. Recent topics include "The Science and Practice of Managing Forests in Cities," "Addressing Loss of Tree Cover in Urban Watersheds: The Importance of Local Codes and Policies," and "CommuniTree: A Model for Engaging Communities in Tree Planting and Maintenance Projects."
UMass-Amherst Extension "Urban Forestry Today"
Topic: What's my Tree Worth? Tree Appraisal Case Studies
Date: June 11, 2020, 12 pm Eastern
Presenter: Lindsey Purcell
CEUs available (1.0 CEU per webinar; free)
Webinar description: Join Lindsey Purcell as he outlines examples and case studies regarding tree appraisal in the urban environment.
Minnesota Landscape Arboretum "Minnesota Plants: A Webinar Series"
Topic: Webinar Series on Minnesota Plants featuring a new Minnesota plant topic each week
Date: Every Thursday, May 28-September 10, 2020, 7 pm Central
Series description: Calling all gardeners, landscapers, and nature enthusiasts- this FREE weekly webinar series is for you! Join local horticultural experts for a closer look at the plants that grow in Minnesota. You'll get to explore collections, backyards and gardens from your armchair as you learn more about trees, perennials, edible plants, houseplants and more! Each expert will have a unique perspective to share, from ecological to commercial. You'll gain a greater appreciation of the green that makes Minnesota so beautiful and get tips and tricks for your own garden. Brought to you by the Minnesota Landscape Arboretum, University of Minnesota Extension, and partners.
Topic: Forming a State Organization: Nebraska Urban Wood
Date: July 8, 2020, 12 pm Central
Series description: The Urban Wood Network invites municipalities, arborists, sawyers, woodworkers, advocates and all others interested in advancing the urban wood movement to participate in this series of 75-minute webinars. Join us on the second Wednesday of each month at 12 pm Central.
Wisconsin DNR and the US Forest Service, Forest Products Lab
Topic: Biochar Production Technologies
Date: June 25, 2020, 10 am Central
Webinar description: This webinar is intended to provide information and discussion around biochar production systems and technological solutions which can help manage wood residues issues in storm damaged areas, municipal wood yards, and at wood using facilities while also generating value- added biochar. This webinar is designed for forest industry representatives, city officials, water and land resource managers, landscape companies, perspective business owners, forest resource managers, and arborists and tree care companies or anyone interested in learning more about biochar production systems.
(Visited 184 times, 1 visits today)