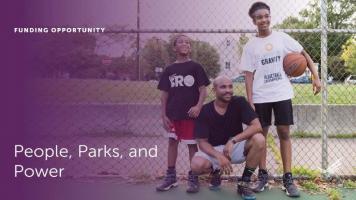 A new national initiative will provide $7 million in funding for community-based organizations to work on park equity and racial justice.
People, Parks and Power (P3) focuses on supporting community-based organizations to build power to take on the policies, institutional practices and power dynamics that produced park inequities in the first place. P3 seeks to fund local-level, community-driven initiatives to work on issues such as public finance measures for parks and green infrastructure, assessments of park needs and inequities, joint use policies to open school grounds for recreational use, land use policies that facilitate equitable access to parks and green space, community engagement units within government agencies and anti-displacement protections, among others.
The Robert Wood Johnson Foundation will award grants of up to $500,000 over a 24-month grant period. Awards will be made to up to 14 sites, and the Foundation reserves the right to make more awards should additional funding be made available.
Letters of intent are due Nov. 4 by 3 p.m. eastern time. Selected applicants will be invited to submit a full proposal in early January 2022, with funding awards to be announced in March 2022. The grant period will start May 15, 2022.
We strongly encourage applications from community-based organizations that are led by people of color and focus on building community power to influence local policy. This includes groups that are already working on local, equity-focused park policy, as well as groups that may be new to this issue but have a history of advancing equity-focused policy on related issues (e.g., built environment, civil rights, climate change, community development, environmental justice, racial justice, water equity, etc.). P3 will fund grantees in urban areas, with a particular interest in small and midsized cities (under 500,000 people).
To learn more about eligibility and selection criteria, and how your organization can apply, please download the Call for Proposals here. Please reach out to P3info@rwjf.org with any questions.
(Visited 156 times, 1 visits today)