EAB is an invasive pest that continues to expand and affect more communities in Wisconsin. EAB affects ash trees, which are prevalent in Wisconsin's urban forests. Communities have been, and continue to create plans to mitigate EAB infestation. Currently, there are 268 communities with known EAB detections. Unfortunately, Wisconsin has far surpassed the former record for most municipal detections in a single year, 86 this year versus 52 in 2015.
EAB, as it continues to expand, has given us more information on community tree diversity and the rate of detection. So far 14% of the 1,853 communities (towns, villages and cities) in Wisconsin have a confirmed EAB detection, 34% of the 190 cities have detected EAB, potential due to the cities and insect pest both being most abundant in southeast Wisconsin.
For a while, the rate of EAB detection in communities was linear, in this past year the rate has increased. Communities in Wisconsin have been creating plans to either prepare for, or treat EAB, including increasing species diversity of street trees. Preparation is an important part of EAB detection in communities. There are several grants and other EAB resources that are available to communities for EAB mitigation and treatment. It is also important to remember not to move wood from the quarantined counties and areas. With communities, Regional Urban Forestry Coordinators and forest health professionals working together, the EAB detection rate can be slowed and trees can be responsibly managed.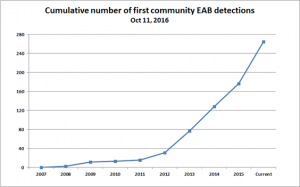 For more information contact Ellen Clark (EllenA.Clark@Wisconsin.gov), Urban Forestry Communication Specialist, at 608-267-2774.
(Visited 237 times, 1 visits today)