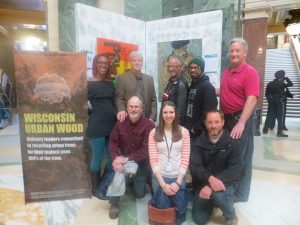 The cabinets in your kitchen, your dining room table, floors in your office, and even the paper you write on are all products made from wood. Usually rural wood is used to make the products, but over the past several years a shift has been made, introducing the use of wood from urban areas to make these, and other, products. For example, urban wood has successfully been used in architecture, creating bowls, staircases, tables and now art.
The urban wood used in these projects most would disregard, but the craftsman and artists behind urban wood utilization view urban wood destined for removal as an opportunity to create new life out of something others would reject.
There are several factors that are considered when trees are marked for removal. Trees are considered hazardous because of where they are located, how tall they are, dead portions, or entirely dead trees. In Milwaukee, many trees were, and continue to be, removed because of a wide spread pest, EAB. Milwaukee is currently an EAB confirmed area in a quarantined county. According to the Wisconsin Emerald Ash Borer Information Source, the larva (the immature stage of EAB) spends its life inside ash trees, feeding on the inner bark where we cannot see it. This feeding disrupts the trees' ability to move water and nutrients back and forth from the roots to the rest of the tree. The tree starves and eventually dies.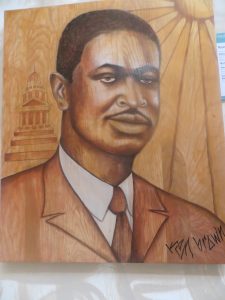 Local artists in Milwaukee, as part of the Fresh Perspective Art Collective, have found a use for the ash wood removed from their urban area due to EAB, beautiful and meaningful artwork. Minister William Harrell, an artist in the Collective, said, "the exhibit is dedicated to black leaders that have passed, it is only enhanced by using wood from trees who have also passed on in Wisconsin, making a beautiful combination."
Tim John, of the Fresh Perspective Art Collective, explained that the Collective is comprised of artists of the African Diaspora who stage and curate art shows. The Collective provides a platform for men and women to share their spirit of self-expression and build careers as professional artists. About 100 artists, from throughout Wisconsin, have participated in their shows, which have been staged in Madison, Milwaukee and Racine. While many of the artists have had extensive experiences with the Wisconsin Department of Corrections, others have not had any and are career professionals or own their own businesses.
For this exhibition, Dwayne Sperber, a member of Wisconsin Urban Wood and owner of Wudeward Urban Forest Products, designed the wooden panels and supplied the lumber. Then, two Fresh Perspective artists worked with Milwaukee woodworker, Mark Cergol, to create the panels based on Dwayne's design. Finally, David Herrewig, a Milwaukee historian, created a list of African Americans from Milwaukee's history who made a positive impact on the community, from which the artists chose or determined their own subject for depiction. Fresh Perspective Art Collective titled this instillation "Urban Heroes, Urban Wood."
Dwayne stated, "The reason for the connection is that there is immense beauty in our urban communities. Urban wood is a product of these communities and therefore a natural medium that shares the story of the beauty, a beauty that is often overlooked." He also commented that he, and the other members of Wisconsin Urban Wood that partnered with Fresh Perspective Art Collective, were proud of this connection.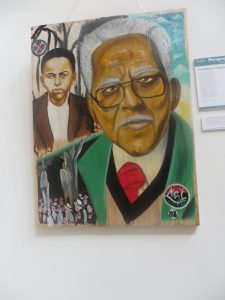 Several of the artists noted how nice the wood was to work with. One artist, Alicia Christina, said she had worked with wood previously and loves how the paint can be manipulated and blends better on wood than on canvas. Luther Hall expressed he was surprised to learn about the quantity of urban wood that goes wasted and unused. He followed up by saying, "being able to make something out of what most individuals see as nothing, or waste, is the goal of many artists, using urban wood helped accomplish this goal."
This exhibition, Urban Heroes, Urban Wood, brought communities together by combining urban wood and art. Wood that came from the community was utilized in a new way by its members to make art emphasizing individuals that built the community. This full circle exhibition is one of the many ways urban wood is being utilized and providing value.
To learn more about this exhibition and the artists and people behind it watch this video.
This article was written in partnership with members of the Fresh Perspective Art Collective and Ellen Clark, Communication Specialist for the Urban Forestry Program.
(Visited 340 times, 1 visits today)