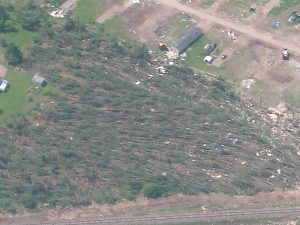 A severe storm on May 16, 2017 left a path of destruction through some woodlands in Barron and Rusk counties.  (See DNR news release.)
If you are among the impacted landowners, the Division of Forestry invites you to visit this storm recovery page for advice and links to resources.  Your local DNR forester is always a good starting point for assistance.
This blog post from the University of Minnesota titled "Dealing with storm-damaged trees and woods" may also be of interest.
Posted by Kirsten Held, DNR Forestry Outreach Specialist, Kirsten.Held@Wisconsin.gov
(Visited 185 times, 1 visits today)