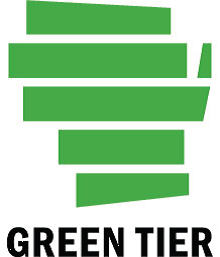 Green Tier, a voluntary program administered by the DNR, works with entities conducting their business beyond compliance requirements and looking for ways to improve. Currently there are 82 participants with 248 facilities in the program along with six Green Tier Charters, including the Legacy Communities [exit DNR] and Wisconsin Urban Wood charters.
The Green Tier Legacy Communities (GTLC) charter is a unique partnership between Wisconsin communities, non-profit organizations, and state agencies whose mission is to "help communities across the state of Wisconsin move continuously toward a sustainable future through initiatives that promote environmental stewardship, economic growth, public health, and social equity". Under the Charter, municipalities take actions and share information to achieve superior environmental stewardship. By collaborating, communities are able to move further, faster, toward reaching their sustainability goals. Current Legacy Community membership includes 14 cities, 2 villages and 4 counties located across the state.
The GTLC charter recommends the sustainability practices that include energy usage and efficiency, land use policy, transportation, waste, water management and healthy community planning. Among these is a focus on the urban tree canopy encouraging communities to adopt tree preservation ordinances, set canopy goals, develop management plans, require tree plantings in new developments, and attain Tree City USA [exit DNR]USA designation.
To learn more about the Green Tier program please visit dnr.wi.gov, keyword "green tier" or contact Will Erikson, Environmental Assistance Coordinator, at William.Erikson@wisconsin.gov.
(Visited 300 times, 1 visits today)