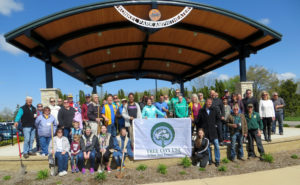 Right now, you're probably sitting in your office, trying to stay warm and planning for the year ahead. Be sure to check out the following recognition programs and pass the information along to committee and boards who would be interested. The great part is that a single project could be used to help meet all three programs' requirements! Also be sure to check out amazing trainings that are being offered throughout the state.
Bee City USA aims to protect pollinators by raising awareness, enhancing habitats and celebrating achievements.
Bird City Wisconsin supports communities in their efforts to protect and manage green space, educate citizens, build nesting structures, reduce threats to birds and generally make urban areas friendlier for both birds and people.
Tree City USA Growth Awards recognize higher levels of tree care by participating Tree City USA communities. Growth Awards highlight innovative programs and projects as well as an increased commitment of resources for urban forestry.
Training
Winter time offers a myriad of training events. From the Annual UF Conference, to UW Extension Landscape & Grounds Maintenance Short Courses, to online training and more. Be sure to check out the WI DNR Urban Forestry Training and Events Calendar.
For more information contact Ellen Clark, Urban Forestry Communications Specialist at (EllenA.Clark@wisconsin.gov) 608-267-2774.
(Visited 218 times, 1 visits today)