Written in conjunction with Mike Jentsch, West Bend Parks and Forestry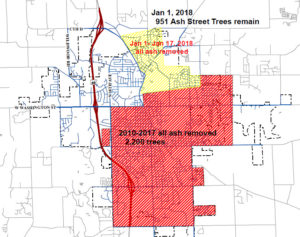 The city of West Bend is in Washington County, about a 30-minute drive north of Milwaukee. More than 32,000 people call West Bend home. Emerald ash borer was first confirmed in West Bend on June 9, 2010. The DNR Urban Forestry team previously showcased West Bend's efforts to mitigate EAB in the city. We are showcasing West Bend again to show how their EAB efforts have changed as the pest grows and effects more and more trees. Their efforts can help shed light their hard work and guide communities that are just now being affected.Previous efforts (2011)
After EAB was first detected in downtown West Bend, 155 other ash trees in the immediate vicinity were climbed and surveyed.
Only 10 downtown ash trees were found to be infested
West Bend's arborists incorporated simple surveying into their daily routine.
In the fall of 2011, 17 more infested trees were located downtown.
West Bend has no formal, in-depth EAB plan. Instead, they find it more useful to work off short-term operational plans. This approach works well because of fluctuations in their EAB situation and response.
3,036 ash street trees, 25% street tree inventory (2011).
Current (2018)
Jan 1, 2018: 951 ash street trees still stand.
Currently every ash street tree is dead or infested with EAB. This winter we will forego street pruning and put our entire staff on EAB removals. Standing dead trees will become hazards.
Spring stump grinding: 50+ park stumps & 550 street tree stumps.
Spring, street & park tree planting contract.
Conduct the annual wood sale. Estimated revenue, $5,500.
Finish removal of remaining ash street trees and park ash trees located in turf areas.
(Visited 340 times, 1 visits today)