By: Katy Thostenson, DNR social science analyst (Madison), kathryn.thostenson@wisconsin.gov, 608-535-7049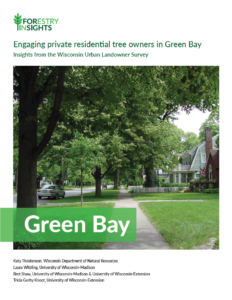 Homeowners in Wisconsin feel the top 5 most important benefits provided by the trees in their yard are:
1) Beauty
2) Shade and cooling
3) Improved air quality
4) Privacy, and
5) Making their neighborhood a better place to live
This list of homeowners' perceived benefits from their trees is just one valuable insight gathered from the 2017 Wisconsin Urban Landowner Survey. More than 1,700 landowners responded to the survey from Green Bay, Madison, Milwaukee and Wausau, providing insights about their attitudes around tree care, their concerns about tree risks, and their tree care behaviors such as pruning and planting.
To help urban forestry professionals and neighborhood tree care advocates across Wisconsin engage homeowners in tree care, a new collection of reports sharing the survey results and outreach insights is now available online at www.forestryinsights.org/urbanforestry. Check out city-specific results as well as the statewide results from all four cities.
The Wisconsin Urban Landowner Survey is a collaborative project between the Wisconsin DNR, University of Wisconsin-Madison College of Agricultural and Life Sciences, University of Wisconsin-Extension and the U.S. Forest Service.
(Visited 124 times, 1 visits today)