By Scott Lyon, Forest Products Specialist
The value-added wood manufacturing industry (or secondary wood manufacturing industry) includes companies that use primary wood products such as lumber or veneer to produce higher value products, such as flooring, cabinets, millwork, furniture, sporting goods, doors, windows, roof trusses, wall panels, and other building materials. The industry includes more than 800 facilities, employs more than 20,000 workers, and generates a direct economic impact $3 billion in Wisconsin (WI DWD 2019; IMPLAN DATA 2017).
From July to September 2018, the Department of Natural Resources, Forest Products Services program conducted an online and mail survey of Wisconsin's value-added wood using industry. The goals of the survey were to update the Wisconsin Wood Using Industry Directory, assess the impact of the value-added wood industry on Wisconsin's economy, and develop an understanding of educational and training needs within this sector. Question topics included: demographics, production, wood product purchasing, employment needs, forest certification program enrollment, trade association membership, and educational training needs. In total, 205 responses were received. After removing undeliverable addresses and closed businesses from those contacted, the adjusted response rate for the survey was 51 percent.
One hundred sixty-three firms with a single facility and 27 with multiple facilities responded to the survey. Of responding companies, only 20 had a production location outside of Wisconsin. The majority of respondents (66%) had fewer than 25 full time employees and produced less than $5,000,000 annually. Only 12% of responding companies had more than 100 employees. Large companies (23%) reported sales from $10,000,000 to over $50,000,000. Most respondents identified as millwork manufacturers (66 firms), and architectural woodwork manufacturers (62), followed by cabinet manufacturers (59), furniture (55) and container and pallet manufacturers (54) (Table 1). Some of the respondents indicated that their companies identified as more than one manufacturer type. Other products manufactured included veneer, lath or stakes, boats or ships, caskets, fencing, beehives, birdhouses and feeders, and partitions and fixtures.
Table 1. Type of wood products manufactured in 2017 (companies could choose multiple responses).
| | | |
| --- | --- | --- |
| Wood Product | Respondents producing | Percentage of Total |
| Millwork | 66 | 12.0% |
| Architectural Woodwork | 62 | 11.3% |
| Cabinets | 59 | 10.8% |
| Furniture | 55 | 10.0% |
| Hardwood and Softwood Lumber | 47 | 8.6% |
| Hardwood Dimension Components | 41 | 7.5% |
| Flooring | 31 | 5.7% |
| Laminated Counters & Laminated Other | 28 | 5.1% |
| Containers, Crates, Pallets or Skids, Pallet Parts | 27 | 4.9% |
| Wood Doors and Windows | 23 | 4.2% |
| Crafts, Models, Toys, Picture Frames, & Sporting Goods | 19 | 3.5% |
| Firewood, Fuel Logs & Pellets | 14 | 2.6% |
| Roof Trusses & Laminated Beams | 14 | 2.6% |
| Patterns | 14 | 2.6% |
| Particleboard, Plywood & Panels | 12 | 2.2% |
| Blocking | 11 | 2.0% |
| Fencing | 7 | 1.3% |
| Partitions & Fixtures | 7 | 1.3% |
| Veneer | 7 | 1.3% |
| Boats and Ships | 2 | 0.4% |
| Caskets | 2 | 0.4% |
Wood purchasing
Respondents were asked about wood their company purchased in 2017 to supply their manufacturing operations (Figure 1). Respondents stated the most frequently purchased wood products were hardwood lumber, plywood, hardwood dimension components, softwood dimension lumber, and fiberboard or medium density fiberboard. Other products purchased included sawdust, wood shavings, and urban wood.
Most of the respondents purchased and sold wood products domestically. Only 22 percent of respondents imported materials in 2017, and the most common sources for imports were Canada, China, European Union, South America and Taiwan. Twenty percent of respondents exported finished wood products to locations outside of the United States.
Figure 1. Wood products purchased by responding companies in 2017 in Wisconsin (companies could choose multiple responses).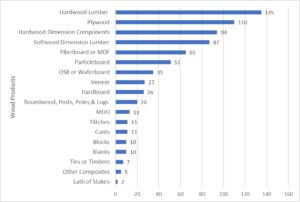 Of those respondents that purchased lumber, the top hardwood species that manufacturers purchased were red oak, hard maple, cherry, white oak, and soft maple. These hardwood species were primarily used in cabinets, millwork, furniture, flooring, and container and pallet manufacturing. The main softwood species used in manufacturing were eastern white pine, Douglas fir, western red cedar, southern yellow pine and red pine. Companies purchasing eastern white pine included window and door manufacturers, millwork, and furniture makers. Other softwood species were used in manufacturing of roof trusses, laminated beams, containers, pallets, and fencing.
The majority of respondents preferred to purchase kiln dried lumber since only 16% of respondents have dry kilns available at their location. There may be an opportunity to substitute locally grown commercial species such as red maple and red or white pine for wood species that are being purchased outside of Wisconsin such as red alder, southern yellow pine, ponderosa pine.
Residue generation and utilization
Respondents were asked about how they dispose of bark and wood residues generated at their production location(s) given the following categories: residue not produced, sold, given away at no cost, utilized on-site, or disposed. Sawdust and shavings were the most marketed residues with 27% and 24% of respondents selling sawdust and shavings respectively. However, in some areas of Wisconsin, there may be lack of markets available; 25% of respondents stated they dispose and 32% give away at no cost their generated sawdust instead of seeking market opportunities. Potential uses for these residues include wood energy, as well as products such as animal bedding, biochar, and wood composite products.
Labor and educational training needs
Participants were asked how frequently their companies experience labor shortages. Thirty-six percent of companies reported that they often or always experience a labor shortage. Smaller companies tended to report less turnover of employees compared to larger manufacturers. Respondents from companies with 25 or more employees reported they had a shortage of employees often or always.
Survey participants rated the importance of 11 educational training categories using a scale ranging from not important to important (Figure 2). Training in workplace safety, lean manufacturing, process improvement, and marketing/sales were rated highest on the importance scale, whereas softwood shop grade lumber grading, softwood construction lumber grading, hardwood lumber grading, and lumber drying were rated as a lower priority or unimportant training needs among the respondents. Some additional training needs that respondents noted as important to their company that were not listed in the survey options were computer-aided drafting, trade apprenticeships, sawmilling, and timber grading.
These findings align with similar research conducted with wood products producers in the region. For example, a similar study conducted in 2012 with both primary and valued-added wood companies in Virginia and Minnesota found that the industry's top educational training requirements in both states were quality and process control, process improvement, and maintenance (Espinoza et al. 2012).
Figure 2. Importance scale rating of training needs for Wisconsin respondent firms in 2017 (n=174)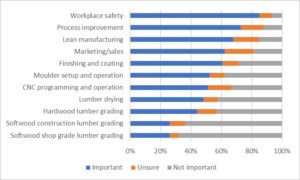 Third party certification and trade associations
Some companies enroll in a third-party forest certification and/or chain-of-custody certification program, such as the Forest Stewardship Council or Sustainable Forestry Initiative, that certifies forestland and products by comparing forest management practices and processes to preset standardized guidelines. Few respondents participated in these programs. Of those that were certified under a program, manufacturers who responded to the survey were more likely to be enrolled in the Forestry Stewardship Council program compared to others.
Respondents were also asked if they were members of industry trade associations. Most of the responding companies (62%) reported that they were a member of an industry association. A variety of associations were mentioned including Architectural Woodwork Institute, American Institute of Architects, Structural Building Components Association, Wood Component Manufacturers Association, Wood Products Manufacturers Association, American Foundry Society (wood used in metal casted frames or patterns), Urban Wood Network, Lakes States Lumber Association, Indiana Hardwood Lumbermen's Association, Wisconsin Urban Wood, National Association of Home Builders, and National Wood Flooring Association. The majority of responding firms (30%) that were members of an association were between $1,000,001-$5,000,000 in total sales in 2017.
Conclusion
This study provided an understanding of the economic impact the valued-added wood products industry has on Wisconsin's economy and forests, along with the market opportunities and challenges manufacturers experience at their respective companies. The study indicated a continued need for educational training for this industry, particularly in the areas of manufacturing and processing. Industry associations, state agencies, and technical colleges should continue to collaborate and provide learning opportunities to help strengthen and grow Wisconsin's value-added wood products industry.
We would especially like to thank the manufacturers that participated in the study to help us better understand the needs of this segment of the wood products industry.
Literature Cited
Dillman, D. A., J.D. Smyth, and L.M. Christian. 2008. Internet, Mail, and Mixed-Mode Surveys: The Tailored Design Method 3rd ed. Wiley, Hoboken, New Jersey.

Espinoza, O., R.L. Smith, S. W. Lyon, H. J. Quesada-Pineda, and B. H. Bond. 2012. Educational Needs of the Forest Products Industry in Minnesota and Virginia in 2012. Forest Products Journal. 62(7/8): 613-622.

IMPLAN DATA. 2017. Economic Impact Analysis for Planning. Available here.
WI DWD. 2019 State of Wisconsin Department of Workforce Development. Labor market information. Available here.
Wood Works. Wood and Human Health. Wood & Human Health Series Issue 1.  Available here.
(Visited 1,173 times, 1 visits today)