In 1872, J. Sterling Morton recognized the power of and need for trees. Morton helped set aside a special day for planting trees. After the success of the first Arbor Day that year, it became a legal holiday and now is celebrated across the world.
There is a lot to celebrate when it comes to trees, they shade us and reduce cooling costs, they help clean our air and water, they create a safe and inviting community, and they beautify our cities, streets and neighborhoods.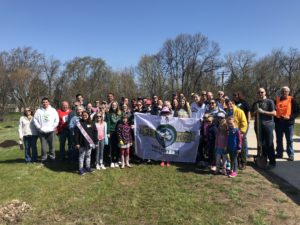 While celebrated internationally, the day to revel trees was also celebrated all across the state of Wisconsin this past month. From Milwaukee to Spooner, kids and senior citizens alike took time to plant and talk about trees. Some played games, others spent time walking in nature, while others acknowledged the benefits of trees in their own way.
Students from McLane Elementary School in West Bend. They met in the gym to participate in a tree trivia "game show." Fourth graders later helped West Bend forestry staff plant a tree on the school grounds. Students were also responsible for a letter writing campaign to the mayor which changed the city tree from a white ash to a Freeman maple.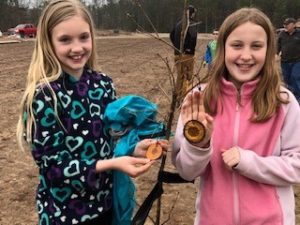 South Milwaukee celebrated Arbor Day at three local elementary schools. A little rain didn't dampen the spirits in Bristol as the Village Board accepted their 7th Tree City USA award on Earth Day. The City of Brookfield celebrated 21 years as a Tree City USA with 100 kindergarteners from Dixon Elementary by planting a bur oak. The City of Adams celebrated its 24th time being recognized as a Tree City USA. Two trees, a crab apple and maple, from the City's nursery were planted as part of the festivities to landscape the area around their newly built fire station. The cities tree nursery began as a CTMI project. Students from the Tonawanda Elementary in Elm Grove planted over a dozen trees to replace to replace ash trees impacted by emerald ash borer. Elm Grove received their 29th Tree City USA award.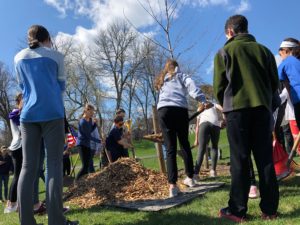 Amherst awarded Sally Prideaux with a very deserving Urban Forestry Council Award for distinguished service. Students planted several oak trees in a new sub-division in town and everyone received a tree medallion for their amazing planting skills. It was a great day to plant trees and recognize a community member.
Middle school students council representatives from Maple Dale in Fox Point planted the first of five maples lining their school playground and commentated 30 years as a Tree City USA community. Waukesha also celebrated a big anniversary of 40 years as a Tree City USA. Nearby, Greenfield celebrated 25 years as a Tree City and 24 years of consecutive Growth Awards by planting 21 trees at Greenfield Middle School. Mayor Kennedy from Glendale joined the celebrations and helped students plant a redbud in the courtyard of Parkway Elementary where they were recognized as a Tree City USA for 21 years.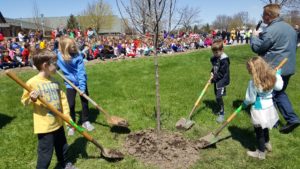 These weren't the only places in Wisconsin that celebrated trees this year. Cedarburg, Horicon, Jackson, Whitewater, Bristol, Lake Geneva, Paddock Lake, and many others took time to appreciate all that trees do. Let's make this celebration last all year and acknowledge the beauty of the forest outside your door.
(Visited 116 times, 1 visits today)