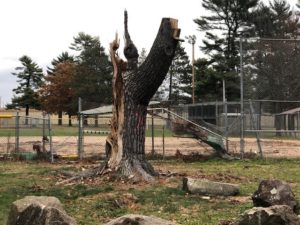 Last October, the Department of Natural Resources' Urban Forestry program awarded fifteen communities and tribes with grant funding in response to the State of Emergency declared on July 18th, 2019. This declaration triggered the availability of up to 20% of the program's funds, an amount of $104,920, to affected Wisconsin communities to help lessen the burden of storm-related damages to their urban forest canopy. Each applicant was able to request a maximum of $50,000; however, due to the unprecedented number of applications received, grants were limited to awards ranging from $4,000 to $8,428.19.
The Department submitted a request in December to the Joint Committee on Finance to transfer funds from the forestry emergency reserve. This reserve was created in 2017 as a result of Wisconsin Act 59 for emergency responses to significant fire, disease, infestation, or other natural disasters that could not otherwise be reimbursed by federal funds.
The Joint Committee on Finance approved the request in full, including $489,100 in funds to supplement the Urban Forestry's Catastrophic Storm Grant offering. As a result, all fifteen communities will be receiving the total amount requested on their grant applications.
(Visited 356 times, 1 visits today)