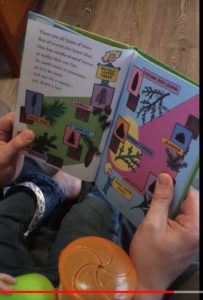 Many Wisconsin communities found creative and resourceful ways to celebrate Arbor Day this year. These celebrations included drive-through tree giveaways, videos, art contests, games and puzzles, self-guided tree walks, small in-person celebrations and tree planting following social distancing guidelines, and more! Here is a sampling of the Arbor Day events that took place in Wisconsin this spring:
Adams: The city of Adams held a celebration on April 16th. Mayor Roberta Pantaleo read the Arbor Day Proclamation, and City Forester Joel Fell and another public works employee planted two trees in Burt Morris Park and four trees along boulevards.
Cedarburg: Please follow this link to read how Cedarburg Green celebrated its Year of the Tree despite Covid-19.
Gays Mills: The village moved their annual Arbor Day celebration online to the village website: "This year we cannot gather at Lions or Crossroads Park to share facts, poetry, snacks, and music related to trees; but, you can start a personalized celebration of our local trees here.  We'll share the Gays Mills Arbor Day declaration and let you know what has been happening with trees in the Village.  You will be able to find interesting facts about trees.  If the weather or your health is bad, challenge yourself with the included tree-related puzzles.  If you want to be outside, take a self-guided tree walk through Robb Park and south along the paved Stump Dodger Trail.  And if you want to suggest future projects to the Village Tree Board, please submit them to the Village Forester through the Village Office.  Let's see if our trees can help us through the challenges of this Corona virus epidemic!" (submitted by Cindy Kohles, volunteer forester, Village of Gays Mills)
Menasha: As is tradition, the mayor was out with our forestry and parks crews planting trees, but we couldn't involve the kids this year. We planted 50+ trees along the new Lake Park Road trail. We also created an Arbor Day planting video: https://www.facebook.com/watch/?v=935298756924781 (submitted by Don Merkes, Mayor, City of Menasha)
New Berlin: We handed out a hundred little trees with the Girl Scouts in a drive–thru Arbor Day celebration.  We recorded the Village President reading the proclamation as the cars drove up. Principal, Superintendent, DPW director and Forester all helped (respectful of distance, of course). (submitted by Paul Fliss, WE Energies, former city forester of New Berlin)
Schofield: The City of Schofield held its annual Arbor Day Event on May 13, 2020.  Our annual tree planting event began at the City of Schofield Public Works Department where our two young summer helpers, Dakota Corallo and Brady Marten, learned the proper way to plant trees including placement around power lines, digging holes to accommodate roots, watering, staking and proper direction due to wind.  More discussion involved species identification and proper planting and pruning techniques.  From there, several other trees were planted around the City in our parks and on other properties.  A total of six trees were planted that day.  Along with our young workers, we were also joined by our Mayor Kregg Hoehn and Alderperson Joan Joss to assist in the tree planting experience. (submitted by Pam Brehm, City of Schofield)
Sheboygan: The City of Sheboygan posted a summary of the community tree planting that had occurred in April and the plans for future tree planting in the spring and fall. Included in the posting was a story time book reading featuring the City Forester reading 'I Can Name 50 Trees Today' to his 1 year old son: https://www.sheboyganwi.gov/arbor-day-2020/ (submitted by Tim Bull, City Forester, City of Sheboygan)
Sturtevant: Cassidy Tree was contracted to plant a serviceberry by Village Hall. Rose Woodruff of the Beautification Committee coordinated the project with We Energies as the sponsor. (submitted by Paul Fliss, WE Energies, former city forester of New Berlin)
DNR Southeast and East Central regions: DNR Urban Forestry Coordinators Kim Sebastian and Olivia Witthun hosted a virtual Arbor Day event for their local municipal partners on April 24th.  They used Skype to share stories, ideas and poems and even a tree yoga pose! The event included an open forum for folks to discuss what they are doing for Arbor Day.  They did a great job engaging the participants, using the technology creatively and effectively, and creating a very positive, upbeat atmosphere of sharing and community problem solving! (submitted by Jeff Roe and Sara Minkoff, DNR Urban Forestry)
(Visited 156 times, 1 visits today)