By Sara Minkoff, DNR Urban Forestry Council liaison, Madison, sara.minkoff@wisconsin.gov, 608-669-5447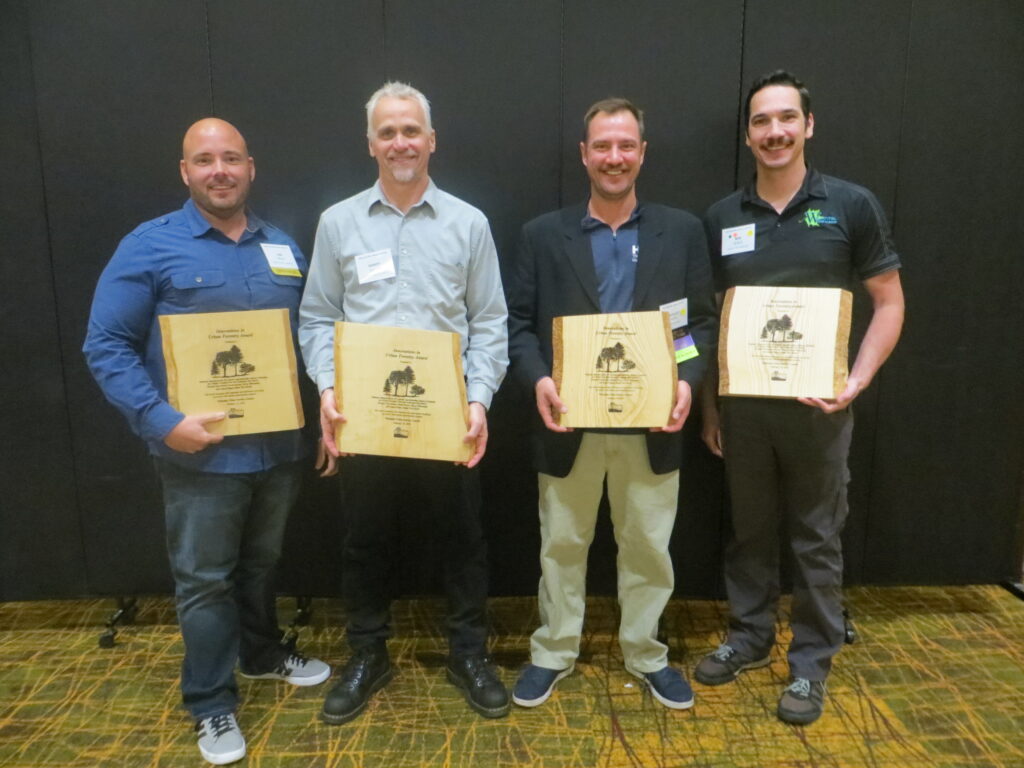 The Council presents annual awards to outstanding individuals, organizations, communities and tribes that further urban forestry in Wisconsin. The awards are announced each year at the annual Wisconsin Urban Forestry Conference and presented to winners in their community. We are currently seeking nominations for the 2021 awards.
The Wisconsin Urban Forestry Council, comprised of municipal employees, elected officials, nursery operators, arborists and others, advises the Department of Natural Resources Division of Forestry on the best ways to manage urban and community forest resources. Every year, the Council bestows several awards to recognize and thank individuals and organizations across Wisconsin for their work and commitment to the trees and habitat in our community forests and the economic benefits they provide.
The five categories of awards, including our newly renamed Leadership award, are described below:
Lifetime Achievement recognizes outstanding contributions to urban forestry in Wisconsin demonstrated throughout a lifetime career.
Distinguished Service recognizes an individual for their outstanding contributions to urban forestry in Wisconsin.
Project Partnership recognizes outstanding projects that utilize partnerships as a means of providing services or benefits to the urban forest.
Leadership recognizes an individual or elected official at the county or local level of government who has made an outstanding recent contribution to urban forestry in Wisconsin. This could be a mayor, alderman, county executive, etc. or citizen who has gone above and beyond in their support. Wisconsin state legislators who have made outstanding contributions to urban forestry will also be considered after they have completed their terms of office.
Innovations in Urban Forestry recognizes a community, individual, association or organization exhibiting outstanding innovations in the development or enhancement of an urban forestry project or program. This award recognizes the creativity, commitment and success of urban forestry efforts.
The 2020 award winners included service groups looking at news ways for increasing the arboriculture workforce, using urban wood after EAB for art and employment, and several individuals who demonstrated outstanding service to the Wisconsin urban forestry community. Keep reading for information about the 2020 award recipients, who were also recognized at the 2020 Wisconsin Arborist Association/DNR annual urban forestry conference in Green Bay:
Lifetime Achievement: We are pleased to recognize Chuck Nass for his leadership and dedication to promoting and improving urban forestry, especially within his home city of Whitewater. Before his recent retirement as their City Forester and Superintendent of Streets and Parks, Chuck was successful at growing the city's urban forestry program, attended the DNR's Community Tree Management Institute, and later returned to CTMI as an instructor. His efforts working with the city's engineers resulted in a positive relationship, giving him access to street plans early enough in the process to be effective and enabling him to incorporate tree protection and planting elements. Chuck also created an engaged Tree Board and used his positive experiences as a model for other municipal foresters. His impact will endure, and his work will continue to provide multiple benefits to the community for decades.
Distinguished Service: This year's honoree, David Sivyer, has been a leader in urban forestry in Wisconsin in several capacities for more than a decade. During his 13-year career as the Forestry Service Manager for the City of Milwaukee, David provided strategic direction and leadership in urban forestry and landscape management, including an effective response to EAB saving almost 30,000 trees and a comprehensive urban wood utilization program finding the highest possible uses of local urban wood within the city. David also served the WI Urban Forestry Council as Chair and Vice Chair, bringing thoughtful leadership, dedication, and a strong commitment to urban forestry in the state. His long-term commitment of service to Wisconsin's urban forests will have a long-lasting positive effect on our state for years to come.
Project Partnership: The collaborative Madison-area Phoenix from the Ashes project is recognized for an extraordinary partnership between nonprofit organizations, private businesses, city departments, and others to help repurpose Madison's felled ash trees, minimize the sense of loss brought about by the removal of these trees, and to create beauty and benefit out of that loss. The project involved workforce development, art and culture, and urban wood utilization, and demonstrated ways our urban canopy can be used as a resource – reclaiming the ash trees decimated by the emerald ash borer and transforming them into functional and decorative art for the public to enjoy, as well as providing job and skills training for underrepresented youth in the community.
Leadership: We are delighted to present our new Leadership Award to Don Merkes, mayor of Menasha and emeritus member of the WI Urban Forestry Council. Don's vision and leadership have catapulted Menasha's urban forestry program to the next level. The partnerships he formed launched several new programs within the city to enhance the beauty and benefits of the urban forest. Don is creating a legacy that future generations of residents will enjoy.
Innovations in Urban Forestry: The Employer Sponsors of the Wisconsin Arborist Apprenticeship Advisory Committee — Jon Welch, Crawford Tree and Landscape; Ben Reince, Wachtel Tree Science; Randy Krouse, City of Milwaukee; and August Hoppe, Hoppe Tree Service — receive this year's Innovation Award to recognize their achievement developing the nation's first arborist apprenticeship. Each of these individuals has been critical to the success of the apprenticeship program; they realized the importance of apprenticeship as a workforce development strategy to solve the challenges of recruitment, training and retainment in our industry and serve as a national model for the future of arboriculture.
To learn more, see previous winners and nominate your community tree champion, visit https://dnr.wi.gov/topic/UrbanForests/awards.html. The deadline for 2021 nominees is October 31, 2020. However, you can nominate your community tree champions any time.
(Visited 95 times, 1 visits today)