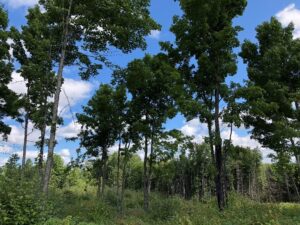 Have you ever wondered how Wisconsin's forests are monitored for regeneration? Forest regeneration, the process of renewing tree cover by establishing young trees, is one of the most basic and important elements of sustainable forest management. After a harvest or disturbance event, like a fire or heavy winds, successful regeneration is crucial to developing healthy, productive forests that can provide sustainable economic and ecological functions. Forest regrowth patterns must be well understood to manage Wisconsin's forest resources sustainably.
In 2018, the DNR's Forestry Division launched the Forest Regeneration Monitoring (FRM) program to better assess the status and progression of naturally regenerating forests on county, state, federal and private lands across the state.
This project will also monitor long-term changes in the composition of Wisconsin's forests. The FRM program will identify the effectiveness of forestry practices at achieving desired outcomes. The program's inventory encompasses the 46 counties that are more than 30% forested. Monitoring is primarily focused on three major cover type groups in Wisconsin — Oak-Hickory, Maple-Birch-Beech, and Red-White-Jack Pine. Less intensive sampling on Aspen, Elm-Ash-Cottonwood, and Fir-Spruce are also underway.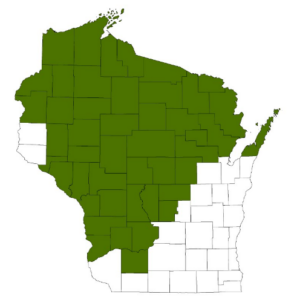 Since its inception, the program has hired over 30 technicians to collect seedling and sapling density data and observe and record pressures that might affect regeneration success, such as overstory shade, competition from herbaceous and woody plants and deer browse.
To date, FRM technicians and program partners have collected regeneration data on over 3,000 stands throughout Wisconsin. Over 50% of stands sampled are found on private lands and have been incorporated into the program due to technician and program outreach and collaboration with private landowners throughout the state.
Do you have forestland that has experienced a recent harvest or disturbance event? The FRM program is always looking to incorporate additional stands into future monitoring efforts. Learn more by visiting the Forest Regeneration Monitoring page or contact the FRM Program Coordinator to determine if your forest land qualifies to be included in future sampling efforts.
(Visited 147 times, 1 visits today)