By Alex Krutsch, Supervisor of Forestry and Grounds, City of Wauwatosa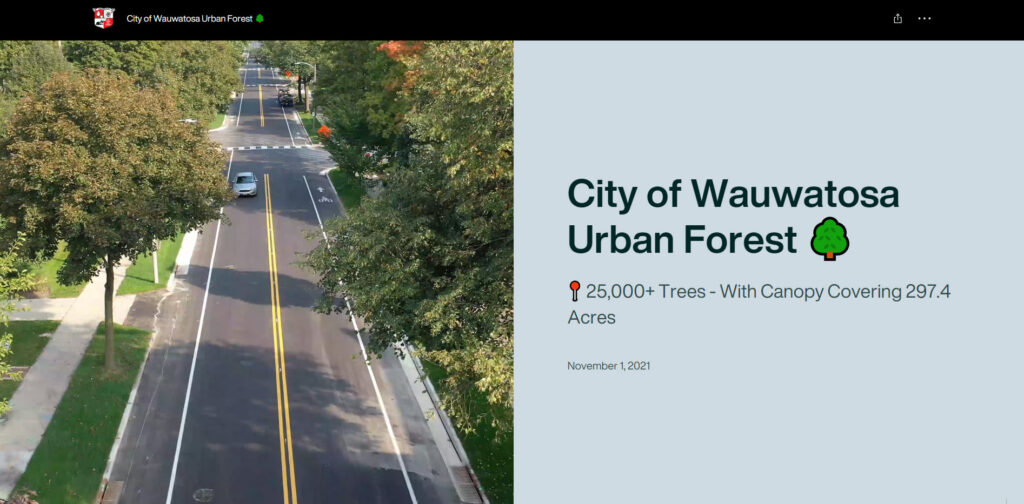 Over the past few years, the Wauwatosa Forestry Department has been working with the City's geographic information system (GIS) manager to inventory City trees into a GIS database.
The results have been transformational for the forestry department allowing staff to update tree inventory and manage department work functions such as tree removal, pruning and planting from the field in real-time via any mobile device with an internet connection.
Recently, the City's GIS team has been able to use the information collected by its arborists, in combination with the i-Tree software, to create a public facing forestry dashboard. The forestry dashboard is an online set of tools Wauwatosa residents can use to learn more about the urban forest in which they live. Zoom in on the dashboard's map, and when you click on an individual tree, you can see species, pruning cycle, if it has been treated for Emerald Ash Borer, its ecological benefits, and more.
The dashboard also includes a virtual tree tour for Wauwatosa residents to learn about the area's urban forest ecological benefits to the community and the importance of species diversity in creating a healthy and sustainable urban forest. The dashboard also features an interactive map showing locations and pictures of species that are currently being planted to increase diversity within Wauwatosa's urban forest.
The City's forestry dashboard has been well received by our community. Social media posts promoting the new website had thousands of views and in the month following the launch of the dashboard the City recorded 147,994 clicks on individual trees on the dashboard's map. The dashboard is proving to be a successful way to engage our community with the urban forest and the forestry department's work to  help the forest thrive.
Explore the City of Wauwatosa Urban Forest dashboard here.
(Visited 357 times, 1 visits today)