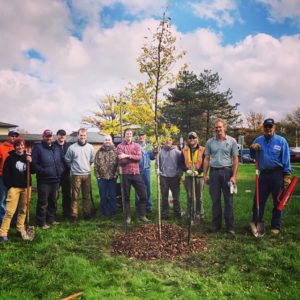 Over the years, the Urban Tree Alliance (UTA), a Madison-based nonprofit, has launched several innovative programs that promote environmental equity. The first of these programs, the Madison Canopy Project, continues to offer free trees to homeowners in selected low-income, low-canopy neighborhoods. Initially funded with the assistance of DNR Urban Forestry Grants, the program now has other funding sources and is kicking off its seventh year.
UTA's newest program, the Housing Partnerships Program, provides tree planting and technical tree assessment services for multi-family residential properties. UTA received 2019 and 2020 DNR Urban Forestry grants to implement and expand this program.
Why the focus on multi-family residences, you may ask? "Through our work in Madison neighborhoods, we have regularly encountered unmet opportunities for tree planting at thousands of multi-family properties," explains Jeremy Kane, Director of UTA.
Continue reading "Trees for all: Madison nonprofit serves multi-family residences" →