Habitat for Humanity of Washington and Dodge Counties is selling urban rescued wood in its ReStores and using the lumber in Habitat homes being built.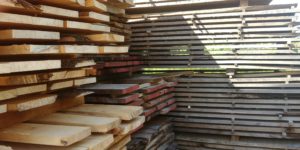 These counties have worked with our staff and previously received grants from DNR urban forestry. They've partnered with the City of West Bend who provides the logs, mainly from ash tree removals.  Logs are delivered to Habitat for Humanity's nearby sawmill operation where they mill the wood and then transfer it to their onsite kiln for drying. From there, the wood is brought to multiple ReStores where it is sold.  Profits from the sale of Rescued Wood helps pay for the construction of Habitat homes and the lumber is also used as a building material inside the homes.  For more information please visit, http://www.habitatwisconsin.org/content/rescued-wood.  
For more information contact Ellen Clark (EllenA.Clark@Wisconsin.gov), Urban Forestry Communication Specialist, at 608-267-2774.
(Visited 223 times, 1 visits today)