Ladybug adults and larvae are great predators of aphids and scales and help keep those pests in check.  Ladybug larvae don't look much like ladybugs though, so you may not notice them, or you may wonder what the tiny monster is that's munching on aphids.  Ladybug larvae come in a variety of colors and shapes.  Several people have described them as looking like a small dragon, or for those of you from Rhinelander, perhaps they look like a tiny Hodag.
I recently came across a critter that I would have never guessed was a ladybug larvae; it looked more like a mealybug to me.  It was on red pine, and there were no aphids on the red pine, so nothing triggered me to think "ladybug larvae."  After snapping a few pics, I dismissed it as an oddity.  But of course oddities are just mysteries waiting to be solved.  Mike Hillstrom, my counterpart in Fitchburg, helped narrow this down to a ladybug larvae.  Ladybugs in the Hyperaspis genus have larvae that look like mealybugs, and those ladybugs (both larvae and adults) specialize in feeding on pine tortoise scale!  How fitting since I found it on red pine!
The following photos illustrate that ladybug larvae come in many shapes, sizes, and colors.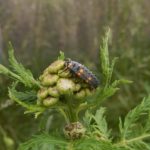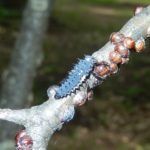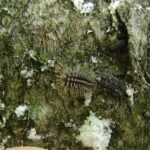 Written by: Linda Williams, forest health specialist, Woodruff, (Linda.Williams@wisconsin.gov), 715-356-5211 x232
(Visited 423 times, 1 visits today)