This fall semester, students at Brown Deer High School won't have to worry about whether or not they have enough lumber supplies and project ideas to perform during their Industrial Arts Wood Shop classes. This is thanks to a partnership between the school and Hoppe Tree Service.   The partnership centers around the concept of using locally sourced urban wood from Hoppe Tree Service's Urban Wood Lab Store.  The agreement not only provides lumber for the school, but also allows the student's non-profit "business" to earn money by processing wood and creating crafts that Hoppe's Urban Wood Lab Store can then sell to consumers.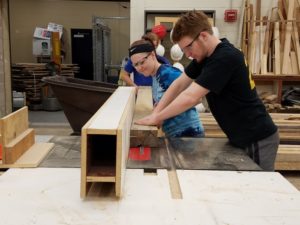 Brown Deer High School Tech Ed Instructor Craig Griffie was instrumental in getting this novel and new partnership launched.  Griffie wanted to give students the experience of what it was like having a job and working in the real world.  Griffie and his students created "Falcon Enterprises".  This student run organization acts like a business and Hoppe Tree Service hires them to process the lumber and make wood products.   The fees that Hoppe Tree Service pays "Falcon Enterprises" go to student scholarships and new equipment/tools for the school's wood shop.
Both Hoppe and Brown Deer High School benefit from this relationship. The students gain experience working with wood, and learn what it's like operating a business.  Hoppe Tree Service gains by being able have rough cut lumber turned into higher end products such as processed lumber and small artisan crafts that can be sold at Hoppe's Urban Wood Lab Store at 6117 W. Bluemound Road.  Milwaukee WI.
The Urban Wood Lab Store Manager Patrick Hill has firsthand knowledge of the value of the partnership with Brown Deer High School. He explains, "It's been great experience working with the students at BDHS. Over the course of the year you can really see the growth in the students, the quality and efficiency of their work increases throughout the year.  We often have a lot of projects going on here at the Wood Lab Store and it's real nice knowing that we can get assistance and production work done by the students."
Brown Deer Technology Education Instructor Craig Griffie comments " As a teacher, my goal is to prepare students for life after high school.  To be able to provide a simulated work experience during the school day where kids actually clock in, and now I'm giving feedback as an employer versus an instructor and it's pretty powerful for these students. The wood has a story and a character that we're not able to find through other vendors, and using it has really elevated the level of learning that goes on in our shop."
Hoppe's Urban Wood Lab Store takes a sustainable and local approach to lumber and wood products. The store has lots of interesting wood products all made from local wood from trees that were removed for a reason other than their timber value.   Currently the store is open Thursdays-Fridays from 10:00am-6:00pm and Saturday's 9:00am-1:00pm.  More information about Hoppe's Urban Wood Lab Store can be found at theurbanwoodlab.com  .
(Visited 489 times, 1 visits today)