On September 20 , 2017, the Forest Products Services Program, in partnership with Forest Stewards Guild, American Institute of Architects, Structural Engineers Association, and the Wisconsin Wood Marketing Team (USDA Forest Service), organized and hosted an educational seminar titled, "Wood-Based Construction – Mass Timber and Beyond."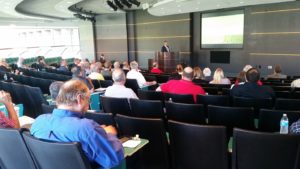 Approximately seventy people attended the event including architects, structural and civil engineers, forest products industry representatives, and researchers. Architects and engineers were targeted for this seminar due to their role in planning, designing, reviewing construction projects, and using of building materials (e.g. wood and mass timber products).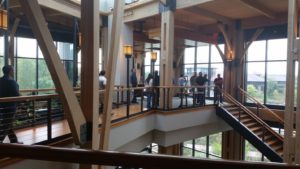 Attendees gained perspectives from local and national experts on many topics: environment performance of wood, innovations in wood products and mass timber, tall wood structures and related building codes, urban wood in design, current research on mass timber and wood products used in construction, and lessons learned from around the world. The event also featured a tour of Promega Crossroads Center, showcasing an innovative mix of glulam and cross-laminated timber.
The seminar evaluations were overwhelmingly positive. Results showed an overall increase in the understanding of wood applications in construction, with many design professionals expressing interest in future workshops on forest products and related topics.
For more information, contact Sabina Dhungana, Sabina.dhungana@wisconsin.gov, (608) 261-0754
(Visited 295 times, 1 visits today)