By Dwayne Sperber, owner, Wudeward Urban Forest Products and appointed member, Wisconsin Urban Forestry Council
When a company has publicly committed to corporate social responsibility, environmental conservation, or working with and through the local community, a new construction project is the time to put these philosophies into action. Unfortunately, this is easier said than done.
Designs may get drawn up with the best sustainably-minded intentions — locally-sourced, low emissions, recycled, reused, energy efficient, the list goes on. But as familiar as the design and construction industries are with using environmentally-friendly materials, most of these products do not come in standard sizes, colors or volumes. And they don't always fit seamlessly into a standard construction management process.
Important, unique materials, such as urban wood lumber, can get cut from a project once the construction manager gets involved since they often see less standardized products as expensive, burdensome, or both.
There are a few approaches the urban wood industry can take to help designers and construction managers adjust their business-as-usual mindset to make room for a streamlined sustainable sourcing process.
Educate Upfront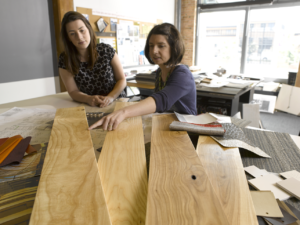 Set expectations and process steps right out of the gate – and repeat them often. As an urban wood lumber supplier and owner of Wudeward Urban Forest Products, I have found creating a specification document is helpful to ensure designers can describe and clearly communicate the urban wood lumber order to all involved in purchasing, receiving and installing the product.
The inherent beauty of working with urban wood is in the story of where it grew, why it was removed, and now, how it is being put to its highest use. It's why most people want sustainably-sourced and locally-grown materials. But, it's not the same as placing an order at a lumber yard.
Nature determines the varying levels of character in each board of urban wood lumber, and it determines the supply volume we have for each species at any given time. During the construction phase, you cannot communicate enough about the lead times, how the order will look upon arrival, and installation best practices. The more everyone is on the same page with expectations, the more they will be able to adjust their standard processes to fit urban wood into their timeline.
Connect with Next Generation Professionals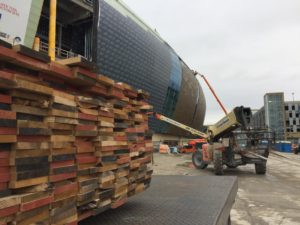 Architecture, design and construction management undergraduate and graduate students are learning about preparing for the future of the construction industry in their coursework. Many colleges and universities are open to guest lectures, class projects and joint initiatives with industry experts of sustainably-sourced construction materials.
The Milwaukee School of Engineering (MSOE) has assigned students in the Environmental Science-Sustainable Design and Construction course a project to find a sustainable product and write a technical research paper on how it compares to non-sustainable products and processes. I had the honor of working with students in the MSOE Sustainable Design and Construction course to introduce them to urban wood lumber and help them explore how its environmental benefits could contribute to a sustainable building design.
Whether it's learning about a new material or making use of an abundant resource, educational organizations are always a good target audience for urban wood.
Partner to Spur Momentum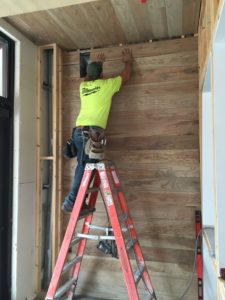 Alignment with the higher education and local business communities can strengthen relationships and grow a mutual understanding for both the environmental need for utilizing urban wood lumber and the aesthetic benefit.
The Wisconsin Urban Forestry Council has done this by successfully expanding its role beyond advising the Wisconsin DNR on issues related to urban forestry, to taking a proactive role on a select number of key issues, one of which is urban wood utilization.
For example, they have amended the council bylaws to include a design/build professional as a member. And they are actively engaged in a letter-writing campaign to architecture, design, construction and engineering schools inviting them to incorporate the topic of urban wood into their curriculum. The students would benefit from any member of the urban wood supply chain, from arborist and sawmill, to manufacturer, supplier, design professional, and construction manager being invited.
"We are proud to have three members—an architect, a tree service owner, and an urban lumber supplier —who focus heavily on the use of urban wood, and are excited about this letter which encourages colleges to focus on urban wood in their sustainability design courses," said Jordan Skiff, Wisconsin Urban Forestry Council Chair.
An Industry Gaining Traction
The urban wood industry is aligned and ready to respond to an increase in demand and build a better understanding within the supply chain. In particular, strengthening the amount of communication and access to designers and builders of new construction is needed to move sustainably sourced materials from an anomaly to business-as-usual.
Contents of this article are shared for informational purposes only. The Wisconsin Department of Natural Resources does not endorse and makes no representations, expressed, inferred or implied, concerning these organizations, programs or services.
(Visited 279 times, 1 visits today)