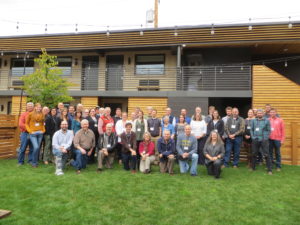 The Urban Forestry Council held their most recent quarterly meeting on October 13 at The Oxbow Hotel in Eau Claire. This was the second time the Wisconsin Council met with their colleagues in Minnesota, board members from the Minnesota Shade Tree Advisory Committee and MN DNR urban forestry staff. In addition, they were joined by Urban Forestry Council members from several additional states: Indiana, Iowa, and Michigan. The Wisconsin Urban Forestry Council and Wisconsin DNR were pleased to welcome these urban forestry representatives from the region for the meeting.
Meeting attendees had the opportunity to learn about a wide variety of urban forestry-related topics from experts in their fields:
Jill Johnson (USDA Forest Service) provided information about federal funding from the US Forest Service and the process of providing these funds to state agencies engaged in urban forestry activities. Jill also facilitated a group conversation about the best ways to continue to share resources across the region, with next steps outlined. There is enthusiasm among these state to build a regional connection from increased effectiveness to enhancing the urban and community forest canopy throughout the Midwest.

Andy Stoltman and Dan Buckler (WI DNR) gave an update on the status and application of Wisconsin's Urban Forest Inventory and Assessment.

Katy Thostenson (WI DNR) shared results from the Wisconsin Urban Landowner's Survey.

State urban forestry coordinators from Indiana, Iowa, Michigan, Minnesota and Wisconsin provided overviews of their respective programs and goals.

Tim Brudnicki, local urban wood entrepreneur, gave a presentation about his urban wood utilization projects, including The Oxbow Hotel and The Lakely, the locations of our meeting.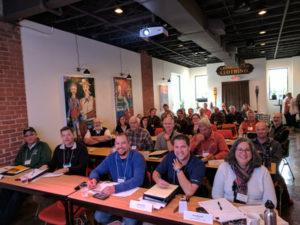 During the afternoon preceding the meeting, participants had the opportunity to learn about the City of Eau Claire's sustainability initiatives, which include urban forestry and related activities. We toured the city to visit their Green Waste Collection Site, Regional Storm Water Facility, Biogas Digester (Wastewater Treatment Facility), and Community Solar Electric Array while learning about Eau Claire's strategies for leaf and wood waste management from several city employees.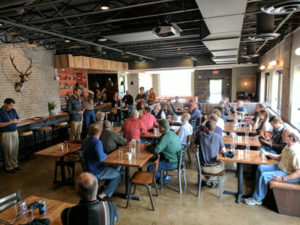 These joint meetings help council members understand how neighboring state councils operate and provide a stage for developing a shared voice for greater impact at the state and national levels. Our goal is to create a venue and process for sharing information and resources in the upper Midwest to strengthen and enhance the urban forest canopy across the region.
The Wisconsin Urban Forestry Council has set meeting dates for 2018, with the June meeting coinciding with Community Tree Management Institute (CTMI) IV graduation in Stevens Point, to facilitate Council participation in the graduation event.
For more information contact Sara Minkoff (Sara.Minkoff@Wisconsin.gov), Urban Forestry Specialist.
(Visited 219 times, 1 visits today)