From the Bur oak that holds a child's first tree house, to under the Kentucky coffee tree where adolescent friends shared secrets , to the willow a couple plants in the backyard that grows with their family. Trees can act as the pin points of our lives.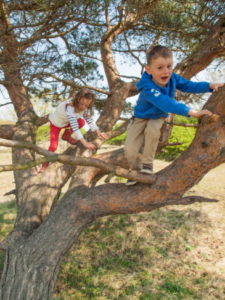 Trees not only mark moments in our lives but supply us with many benefits. Trees beautify the places we live, reduce the amount of carbon dioxide in the atmosphere, reduce stormwater runoff, provide shade and reduce cooling costs, increase safety in neighborhoods, and many more health, economic, social and ecologic benefits.
The willow that the family planted will grow to show its tendril-like branches and provide a shaded area in the lawn for the kids to play under, but it will also provide the family with over $215 in benefits; adding $23 to property value, intercepting nearly 3,764 gallons of stormwater, conserve 321 kilowatt hours of energy, and reduce atmospheric carbon by 784 pounds, all in a single year. You can find out what the tree in your yard is saving you by visiting the National Tree Benefits Calculator.
I remember, when I was younger, my parents had two large cottonwood trees in our backyard. To this day whenever I see a cottonwood tree I am reminded of the memories that were made and shaded underneath those two trees. In the spring there was a warm-weather snow, as I watched the cotton float from the trees and land in our yard, coating it like a soft alluring blanket, beckoning me to come run through the cotton making it take flight again. The two giants guarded over me and acted as fortresses when I played as a child and a backdrop for prom photos when I was older. While these trees provided my family with many ecologic and economic benefits, it is the memories of the trees that means the most. Create your own memories and help recognize the trees that mark your life by celebrating Arbor Day next month.
People started celebrating the trees in their lives in 1872, on the first Arbor Day. J. Sterling Morton coined the holiday after moving to Nebraska and missing the greenery he had in Detroit. Today, on April 22nd people celebrate the beauty of trees and all the resources trees provide for us. This historic holiday has been celebrated in Wisconsin since 1883. All around the world people continue to celebrate and promote environmental stewardship.
Consider telling others about your celebration by visiting the Arbor Day Foundation map and adding your event. By planting and maintaining trees you can build a legacy and mark moments in your life.
By Ellen Clark, WI DNR Urban Forestry Communication Specialist
(Visited 214 times, 1 visits today)