Are you a woodland owner who would like to learn more about caring for your woodlands and keeping it healthy? Perhaps you are thinking of purchasing woodlands?  This day is for you!
YOU are invited to join Wisconsin Woodland Owners Association's (WWOA) 40th year c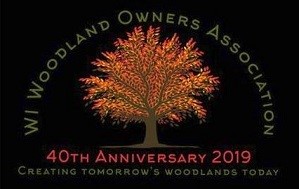 elebration of educating and assisting Wisconsin's private woodland owners by attending one of their Open Woods events on Saturday, May 18, 2019. WWOA members around the state will celebrate by opening their private woodlands to the public and hosting a variety of family-friendly events to showcase how they have improved their land through forest management.
The list of event hosts and activities on the WWOA website continues to be updated, so check back often.​ Bring your family, friends, and neighbors to enjoy a walk in the woods or special activity.
Each site will offer a variety of fun events such as walks with the hosts and forester or other natural resource professionals to showcase how the woodlands have been cared for or tentative projects on the land. Other entertainment may include children's activities with Smoky Bear, crafts, natural bird feeders, wildflower seed bombs, and tree/plant/wildlife identification and exhibits from various nonprofit organizations and agencies. Many locations are also offering snacks and refreshments or encouraging participants to bring a picnic lunch to enjoy in the woods.
Learn more about caring for your woods at www.wisconsinwoodlands.org
(Visited 86 times, 1 visits today)