Smokey Bear, Cheers to 75 Years of Preventing Wildfires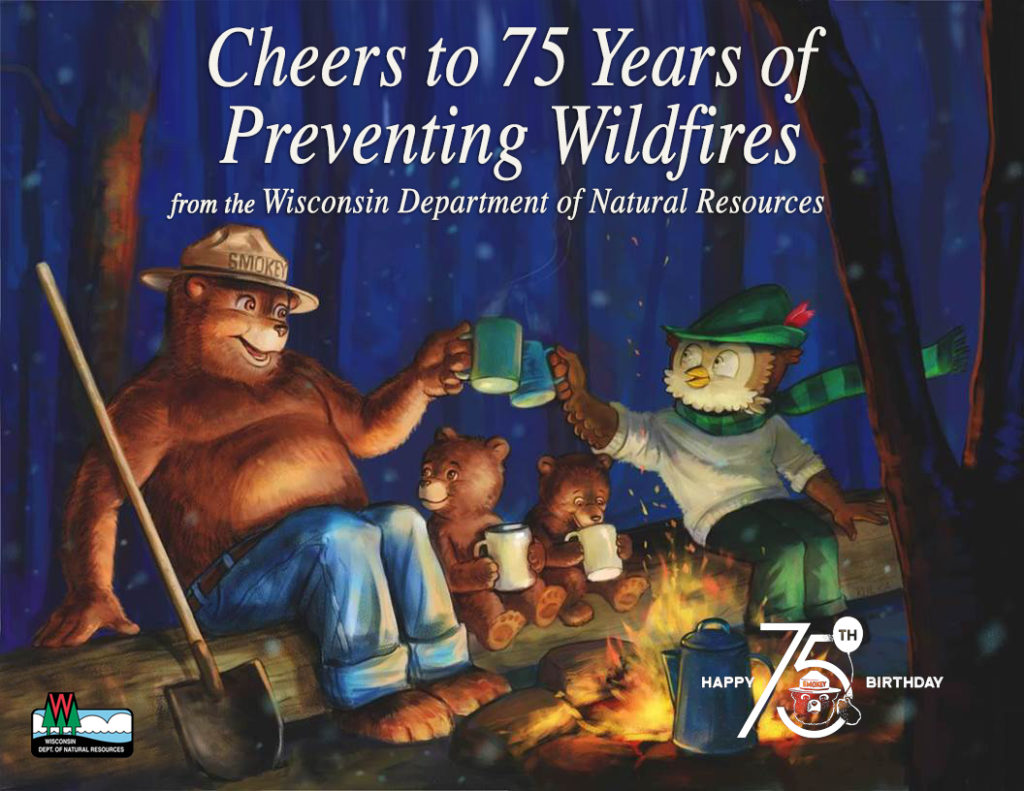 "With a Ranger's hat and shovel and a pair of dungarees, you will find him in the forest always sniffin' at the breeze…" – If this jingle sounds familiar, then one might know we are talking about the living symbol of fire prevention and our beloved friend, Smokey Bear!
With the longest-running public service campaign in U.S. history under his belt, Smokey has taught millions of Americans about the role in preventing wildfires since 1944.  Seventy-five years later, Smokey celebrates a milestone birthday.
To support Wisconsin's fire prevention efforts, Governor Tony Evers proclaimed August 9th, 2019 as 'Smokey Bear's 75th Birthday' through a signed Office of the Governor Proclamation to honor and observe this historic event, recognizing Smokey's contribution to the education, health and safety for the past 75 years of Wisconsin's citizens.
"As far as recognition goes, Smokey Bear ranks right up there behind Santa Claus and Mickey Mouse," says Catherine Koele, Department of Natural Resource wildfire prevention specialist. "Many of us remember Smokey from our childhoods.  We'd see him in parades, on posters, in magazines or occasionally in TV commercials.  If we were lucky enough, maybe he'd stop by the classroom and teach us about fire safety."
Take a peek at the History of Smokey Bear—a timeline of important events over the last 75 years!
Smokey gives back
Throughout Smokey's 75th birthday year, Smokey himself will be giving back to local communities in Wisconsin by celebrating somebody else's birthday.  The DNR is partnering with the non-profit organization Box of Balloons to support fire prevention and the mission to make a child's birthday happy, celebrated and memorable.
Coordinated by eleven chapters across the state, Box of Balloons provides birthday boxes to children below poverty.  This year, Box of Balloons will be highlighting outdoor recreation and Smokey Bear themed birthday boxes for Pre-Kindergarten through 2nd Grade.  Each box and birthday celebration will include a surprise visit by Smokey Bear.  DNR forestry staff, acting as Smokey, will also provide fire prevention activities to educate and entertain the children attending each party.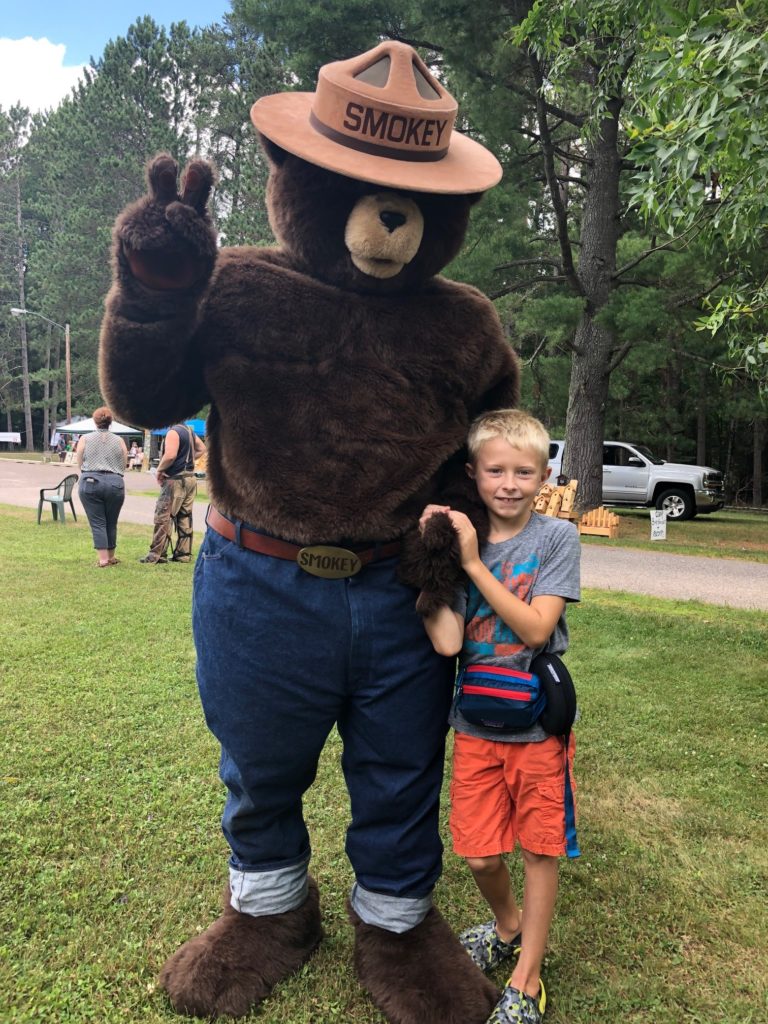 This unique partnership will help both organizations expand into rural communities in hopes of getting Smokey's image in front of children while also helping them feel special and celebrated on their birthdays. To learn more about the mission or support the efforts provided by Box of Balloons, visit boxofballoons.org.
Celebrate with Smokey!
Swing by the Wisconsin State Fair August 1-11 and visit Smokey at Exploratory Park.  On August 9 from 10 a.m. to 5 p.m., the DNR will host a special birthday party. Smokey will be making appearances at several of our state parks and forests in the coming weeks.  To find out where, visit the DNR's event calendar at dnr.wi.gov, keyword "get outdoors"  For more information on Smokey and his birthday, visit smokeybear.com.
Celebrate Smokey's 75th birthday — take Smokey's Pledge, share his message, consider alternatives to burning or encourage friends and family to be more careful with fire.  Doing your part will help ensure Wisconsin's most treasured landscapes – and the people and wildlife who call them home – are safe from devastating, unplanned and unwanted fires.  Cheers to another 75 years, Smokey Bear!
Watch Smokey show off his dancing skills on the steps of the Capitol in a F.I.R.E video with Wisconsin firefighters as they sing happy birthday to the YMCA tune from the Village People.
(Visited 386 times, 1 visits today)