By Marguerite Rapp, forest health communications specialist, marguerite.rapp@wisconsin.gov, Andrea Diss Torrance, invasive insects program coordinator, andrea.disstorrance@wisconsin.gov, and Tim Allen, DATCP forest pest program coordinator and nursery inspector, timothy.allen@wisconsin.gov, 715-891-8158
This time of year, many Wisconsinites warm up with firewood, whether that's in a wood stove for the home or a bonfire with family and friends. While firewood is one of the most sustainable heat sources available, the forests that produce it are threatened when firewood infested by invasive species is moved long distances. Fortunately, we can reduce this threat together through responsible use, movement and sale of firewood and wood products.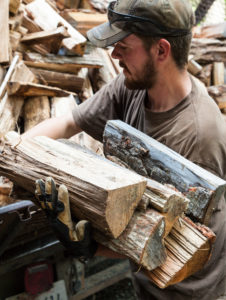 The messages "Don't move firewood" and "Buy it where you burn it" probably sound familiar to most people in Wisconsin. Circulated in peak firewood seasons, these messages emphasize what individuals can do to slow the spread of invasive insects and diseases. We focus on individuals for good reason: many new introductions of invasive species come from moving firewood for personal use. But while decisions made by individuals are important, agencies and private businesses also play critical, less well-known roles in this effort.
Government agencies regulate businesses' movement of firewood and other wood products to minimize the risk of spreading invasive species while allowing for continued business operations. To better understand how agencies and businesses work alongside the public to limit the spread of invasives, imagine that a firewood producer wants to sell firewood in Iowa County that was harvested from eastern Wisconsin. The movement of firewood would be affected by the gypsy moth quarantine, which restricts movement from the eastern two-thirds of the state to counties in the western third. While the quarantine would prohibit a camper from moving firewood west across the boundary, a firewood producer may get permission to do so if they sign a compliance agreement with the Wisconsin Department of Agriculture, Trade and Consumer Protection (DATCP).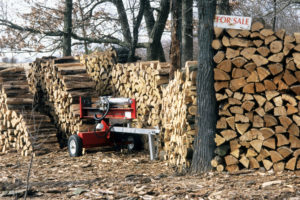 Compliance agreements are legal documents that minimize the potential negative impacts of trade, including the risk of spreading invasives, while allowing for continued business operations. Forest products businesses, including firewood producers, loggers and log haulers, who receive compliance agreements commit to modifying their business practices to reduce the risk of moving harmful forest pests. Violations of compliance agreements are penalized with fines or forfeiture. In the example above, a firewood producer might be required to move the firewood during a "low-risk" season and heat it to a specific temperature to kill any insects and disease that are present.
Regulations that affect businesses are different than those affecting the public, and violations are met with greater consequences. All individuals and groups, including Wisconsin firewood users, agencies and businesses, play a critical role in protecting forests through the responsible movement and sale of firewood and other wood products in the state.
Buying treated firewood from a DATCP or USDA certified producer or collecting local firewood are among the best ways for individuals to limit the spread of invasives. Visit http://www.firewoodscout.org/ for more information, including a user-friendly directory of vendors by zip code and links to DNR and DATCP firewood webpages.
(Visited 525 times, 1 visits today)