By Bill McNee, forest health specialist, Oshkosh, Bill.Mcnee@wisconsin.gov, 920-360-0942
Increasing reports of gypsy moth, forest tent caterpillar and other defoliators this summer may indicate rising populations and increased defoliation over the next few years. A recently revised guide to aerial sprays for landowners is now available.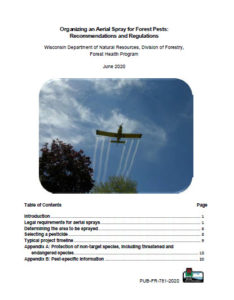 Spruce budworm has been causing patchy defoliation in northern Wisconsin since 2016, but now other defoliator species also appear to be more abundant. The most significant reports of defoliators to date are:
Gypsy moth: Brown and Fond du Lac counties
Forest tent caterpillar: Oneida County
Spruce budworm: Forest, Marinette and Vilas counties
Larch casebearer: Oneida and Vilas counties
Spanworms and underwing caterpillars: Devil's Lake State Park
The revised "Organizing an Aerial Spray for Forest Pests: Recommendations and Regulations" guide is an important tool for landowners and local governments that are considering an aerial spray to prevent the defoliation and mortality of higher-value trees. The guide was updated in collaboration with staff from several DNR programs and the Wisconsin Department of Agriculture, Trade and Consumer Protection (DATCP).
The guide will be particularly useful for groups interested in organizing an aerial spray against gypsy moth, as the DNR gypsy moth suppression program is no longer available to landowners and local governments. The gypsy moth Slow-The-Spread program run by DATCP is still operating in western counties and treats very low populations to slow westward spread, but it does not spray high populations to prevent defoliation or reduce nuisance caterpillar numbers where gypsy moth is already established.
The DNR forest health website provides information on identification, population survey methods, and management of important defoliators such as gypsy moth and forest tent caterpillar. Additional information on gypsy moth management, including aerial treatments, can be found on the gypsy moth web portal. The aerial spray guide can be found on both sites. DNR forest health staff can be contacted if there are questions about defoliator management.
(Visited 367 times, 1 visits today)