By Patricia Lindquist, DNR Urban Forestry Communications Specialist based in Madison, patricia.lindquist@wisconsin.gov or 608-843-6248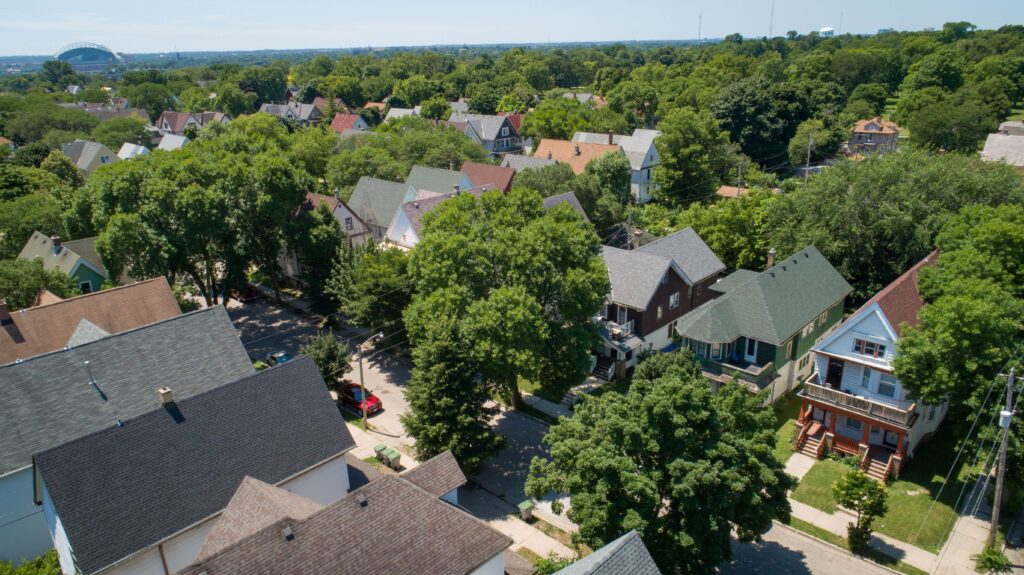 The COVID-19 pandemic is taking a serious toll on our mental health. Many of us are feeling lonely and isolated due to social distancing. Some of us have lost our jobs, some have lost access to schooling and some have lost beloved friends and family members.
Stress, anxiety and depression are on the rise. The numbers are truly staggering. According to the Kaiser Family Foundation, there has been a dramatic increase in the number of people reporting symptoms of anxiety or depressive disorder during the pandemic. Pre-pandemic, from January to June 2019, 11% of adults reported these symptoms. In recent months, these figures have more than tripled. The weekly average for May 2020 was 34.5%; the weekly average for June was 36.5%; and the weekly average for July was 40.1%. In addition, a recent study reported that 13.3% of adults have begun or increased their use of substances to cope with the stress of COVID-19, and 10.7% of adults have thought of suicide in the last 30 days.
We are in dire need of new coping mechanisms. One of the best coping mechanisms that is easily overlooked is all around us: trees! Spending time in nature is a powerful way to reduce anxiety, depression and mental illness. You do not need to hike for hours in the wilderness to reap these benefits. A 20 minute "dose" of urban nature is all that is needed to measurably reduce stress levels. Every little bit helps; simply looking at trees through a window has been shown to alleviate stress.
In recent years, the medical community has increasingly recognized the importance of trees to mental health. A growing number of scientists have been studying and documenting the health benefits of trees. For example, one study found that a 25% increase in neighborhood tree canopy was associated with a 1-point decrease on a 5-point scale for depression, anxiety and stress. Another study analyzed MRI scans of the brains of urban residents who live close to a forest. These residents were found to have an amygdala structure that is associated with better capacity to cope with stress.
A sampling of additional studies has shown that:
Visual exposure to settings with trees speeds recovery from stress, as measured by changes in blood pressure and muscle tension;

For children diagnosed with ADHD, the effect of walking through an urban park for twenty minutes is roughly equivalent to the peak effects of two typical ADHD medications; and

Post-surgical patients with window views of nature have shorter hospital stays, receive fewer negative evaluations in nurses' notes, and take fewer pain meds than matched patients in similar rooms with windows facing a brick wall.
Of course, many people throughout the centuries have intuitively recognized the role of nature in supporting mental health. Fredrick Law Olmsted, the "father" of American landscape architecture, wrote extensively about the mental health benefits of nature in the 1800s. According to Olmsted, "the enjoyment of scenery employs the mind without fatigue and yet exercises it; tranquilizes it and yet enlivens it; and thus, through the influence of the mind over the body gives the effect of refreshing rest and reinvigoration to the whole system." 
During the COVID-19 pandemic, many Wisconsinites have been taking advantage of the mental health boost that urban nature provides. According to Park Ranger Supervisor Josh Schmitt, Madison's Park system saw a large increase in use during the pandemic. "Levels of use in early spring felt like the Fourth of July," Schmitt recalled. Park rangers have been managing large numbers of people on trail systems, in dog parks and on the golf course. As Schmitt stated, "people really loved the parks this year and the parks loved them right back."
It can be all too easy to take our trees for granted, but it's important to remember that we need to invest in them. Maintaining a healthy, vibrant community forest requires commitment, funding, know-how and other resources. Without planting and ongoing care, we will lose many of the benefits our forests provide. And many urban forests are, in fact, declining: we are currently losing about four million trees annually in U.S. urban areas.
We also need to ensure that everyone has equal access to nearby nature. Researchers have found that urban tree cover and green spaces are often inequitably distributed in communities. Lower income and minority neighborhoods typically have fewer trees than wealthier areas. Given that trees provide a wide range of economic, social and health benefits (such decreased asthma and obesity, UV protection, and reduced violence and crime, among many others), this is a major public health and social justice issue.
As we can see, the cost of funding an urban forestry program is well worth the investment. According to the U.S. Forest Service, each dollar spent on community trees is repaid between two and five times in benefits such as cleaner air and water, lower energy bills, reduced stormwater runoff and higher property values. And don't forget the financial impact of the health benefits of trees. Kathleen Wolf, Ph.D., at the University of Washington, estimates that greater investment in community forests could result in up to $11.7 billion dollars in avoided health care costs annually.
In summary, the COVID-19 pandemic is demonstrating just how important our community forests are to our mental health. As a species, our ancestors emerged from the forest to build cities. And now, during this global pandemic, we are returning to the forest to rebuild ourselves.
If you would like assistance in starting or developing your community forestry program, please reach out to your local DNR urban forester: https://dnr.wisconsin.gov/topic/urbanforests/contact. We're here to help!
WDNR Communications Specialist Patricia Lindquist wrote this article for the League of Wisconsin Municipalities December 2020 The Municipality. It is reprinted with permission.
(Visited 269 times, 1 visits today)