By Patricia Lindquist, DNR Urban Forestry Communications Specialist, Madison, Patricia.Lindquist@wisconsin.gov or 608-843-6248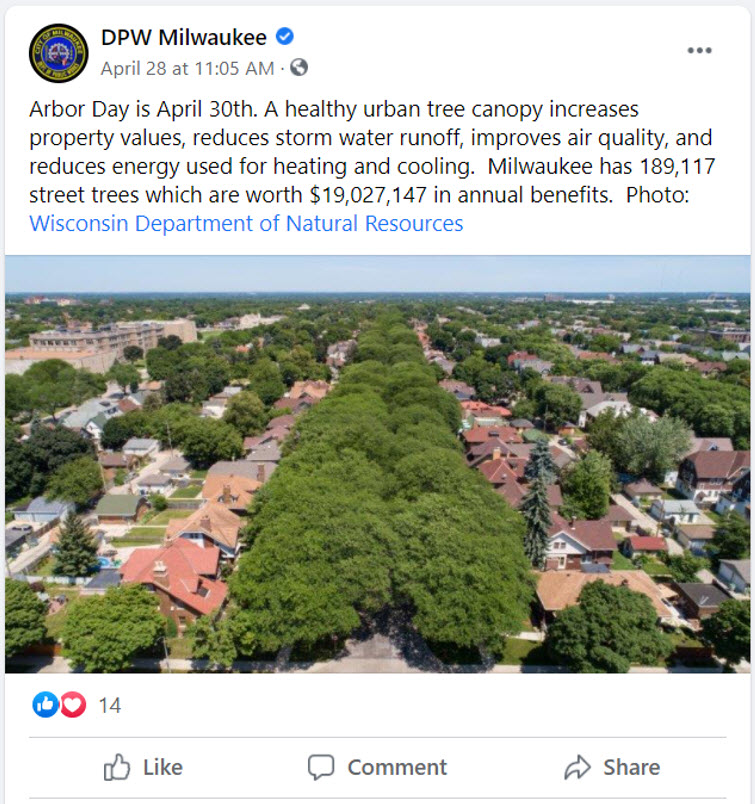 Despite significant challenges this year, many communities adapted their annual Arbor Day celebrations or came up with creative new ideas. Thanks to everyone for going above and beyond in 2021!
A big thank you to the 43 communities who participated in the Arbor Day Social media campaign! All together, these communities created 159 posts for Facebook, Twitter and their local government websites during Arbor Week. We're thrilled that so many of you helped spread the word about the benefits of trees and proper tree planting and care practices.
Participating communities include Antigo, Ashland, Belgium, Brookfield, Chilton, Cottage Grove, Cedarburg, Cudahy, DeForest, DePere, Fox Crossing, Grafton, Greendale, Greenville, Horicon, Hudson, Janesville, Little Chute, Milton, Milwaukee, Monroe, Monona, McFarland, Mount Horeb, Oak Creek, Oconomowoc, Platteville, Portage, Reedsburg, Richland Center, Schofield, Shorewood, South Milwaukee, Sturgeon Bay, Sun Prairie, Stevens Point, Stanley, Two Rivers, Waupaca, Wauwautosa, Waterford, Watertown and Whitewater.
A few notes about the campaign:
The communities listed above only include those communities who told me they would be participating in the social media campaign and whose posts I could find on social media. If I couldn't find your post, please email me (patricia.lindquist@wisconsin.gov) with a link to your Facebook page and I'll add your community's name to the list.

Of the 159 posts, 91 were one of the DNR's suggested posts and 68 were written by communities. Community-written posts featured photos from Arbor Day celebrations, statistics about Tree City USA, activities for celebrating Arbor Day (such as tree walks and scavenger hunts) and more. Thirty communities used at least one of the DNR's suggested posts.
The most popular post was a tie between the DNR's article Species Diversity In The Urban Forest: A Short Guide For Homeowners and the Morton Arboretum Species Selector tool.
Many communities also held in-person Arbor Day celebrations this year. Here is a small sampling:
Brodhead: "Our librarian is working on a Crafterschool activity to give away 50 tree seedlings for Arbor Day and put together a video on tree care. We have 30 trees ordered for terrace and city parks that we will be planting for Arbor Day. Your information will help inform the community on the value of trees."
Columbus: "We are planning on doing a tree scavenger hunt throughout our city parks. We are also planning on having our new mayor plant the city Arbor Day tree and I am hoping to promote the Every Kid Healthy Week by getting tree seedlings from our local nurseries."
Greenfield: "For the past 30 years, Greenfield's Arbor Day Celebration and tree planting has been a real community event, involving students, local organizations, businesses and officials who come together through donations and to plant trees they have adopted. As a precaution due to COVID-19, our community Arbor Day will take place on Saturday, October 2, at Elmdale Elementary School. In addition, Elmdale students will plant a ceremonial tree at their school and read the Arbor Day proclamation on April 30."
Phillips: "For Arbor Day we are working with the high school Field Science instructor, Bob Dural, on one or two social-distance events. The students will utilize i-Tree to calculate the value of trees in their own yard and on city streets as a classroom project. Then we will create a Tree Walk using chalk to mark the sidewalk with tree names. We may also hang tree tags on some city street trees showing their value as calculated using the online tools."
Platteville: "We have plans to plant a tree on Arbor Day with vaccinated residents at a nearby long-term care facility."
Plymouth: "We will be planting two bare root trees at our City Hall with children from one of our local schools. We will be careful to follow all CDC guidelines working in conjunction with small groups, masks, distances, etc. The children chose the tree species to be planted and are all very excited to participate."
(Visited 124 times, 1 visits today)