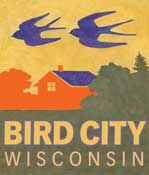 Ninety-one communities received Bird City Wisconsin status in 2021. Greenfield and Wauwatosa are first-time recipients.
The following communities have renewed their status: Algoma, Altoona, Amery, Appleton, Ashland, Bailey's Harbor, Baraboo, Bayfield, Bayside, Beaver Dam, Brookfield, Brown County, Brown Deer, Chenequa, De Soto, DeForest, Door County, Eau Claire, Egg Harbor, Elm Grove, Ephraim, Ferryville, Fond du Lac, Fontana-on-Geneva Lake, Fox Point, Glendale, Grafton, Grantsburg, Green Bay, Green Lake, Hales Corners, Horicon, Howard, Hudson, Janesville, Kaukauna, Kenosha County, Kenosha (City), La Crosse, Lake Geneva, Madison, Manitowish Waters, Manitowoc, Marinette, Marquette County, Mayville, McFarland, Menomonie, Mequon, Milwaukee (City), Milwaukee County, Monona, Muskego, Newburg, New London, Oconomowoc, Oconto, Osceola, Oshkosh, Ozaukee County, Pittsville, Plover, Plymouth, Port Wing, Prairie du Chien, Presque Isle, Racine, Reedsburg, Rice Lake, River Falls, River Hills, Rome, Sauk City/Prairie du Sac, Sheboygan, Shorewood, Shorewood Hills, Stevens Point, Sturgeon Bay, Superior, Taylor County, Trempealeau, Washington Island, Waunakee, Wausau, West Bend, Whitefish Bay, Whitewater, Williams Bay and Wisconsin Rapids.
A coalition of Wisconsin conservation and birding organizations created Bird City Wisconsin in 2009. The DNR helped Carl Schwartz, founding director of Bird City Wisconsin, launch the program. Modeled on TCUSA, Bird City supports communities in their efforts to protect and manage green space, educate citizens, build nesting structures, landscape with native plants, reduce threats to birds and generally make urban areas friendlier for both birds and people.
To receive Bird City status, an applicant must achieve at least eight points across six different categories. For example, in Category 2, Community Forest Management, a community can achieve one point for having been awarded Tree City USA status and another point for attending the DNR's Wisconsin Community Tree Management Institute.
To learn more and to apply, visit their website.
(Visited 156 times, 1 visits today)