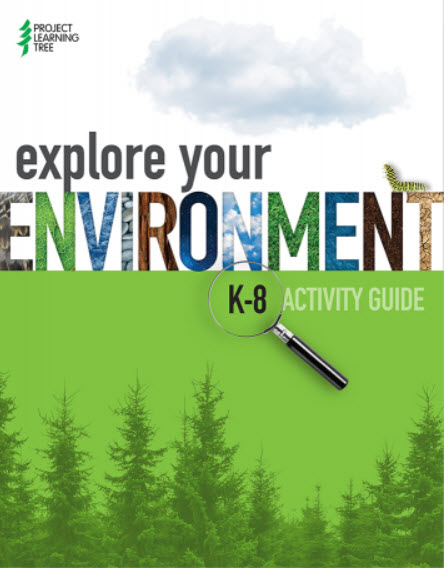 Project Learning Tree® (PLT) recently released a new curriculum guide to engage kindergarten through eighth-grade students in exploring the environment. 
Fifty field-tested, hands-on activities integrate investigations of nature with science, math, English language arts and social studies. Copies of the Explore Your Environment: K-8 Activity Guide can be purchased at PLT's online store​.
 
PLT is a long-established, award-winning environmental education program that uses trees and forests as windows on the world to advance environmental literacy, stewardship and pathways to green careers. The Sustainable Forestry Initiative administers the national program.
This new, cutting-edge resource for educators offers robust, real-world learning experiences for students. The curriculum is designed to bolster STEM (science, technology, engineering and math) learning, promote civic engagement and help young people acquire the skills they will need to be creative problem solvers.
The activities develop students' critical thinking skills as they participate in hands-on learning, debate real-life environmental decisions and engage with their community in action projects. PLT uses experiential learning, inquiry-based investigations, outdoor education and service-learning to help educators make learning relevant and fun for students. In addition, every activity includes career connections to link further learning to real-life experiences.
PLT is administered in Wisconsin by the Wisconsin Center for Environmental Education, in conjunction with LEAF (Wisconsin's K-12 forestry education program) and Wisconsin's school forest program. The DNR's Division of Forestry provides funding.
(Visited 83 times, 1 visits today)