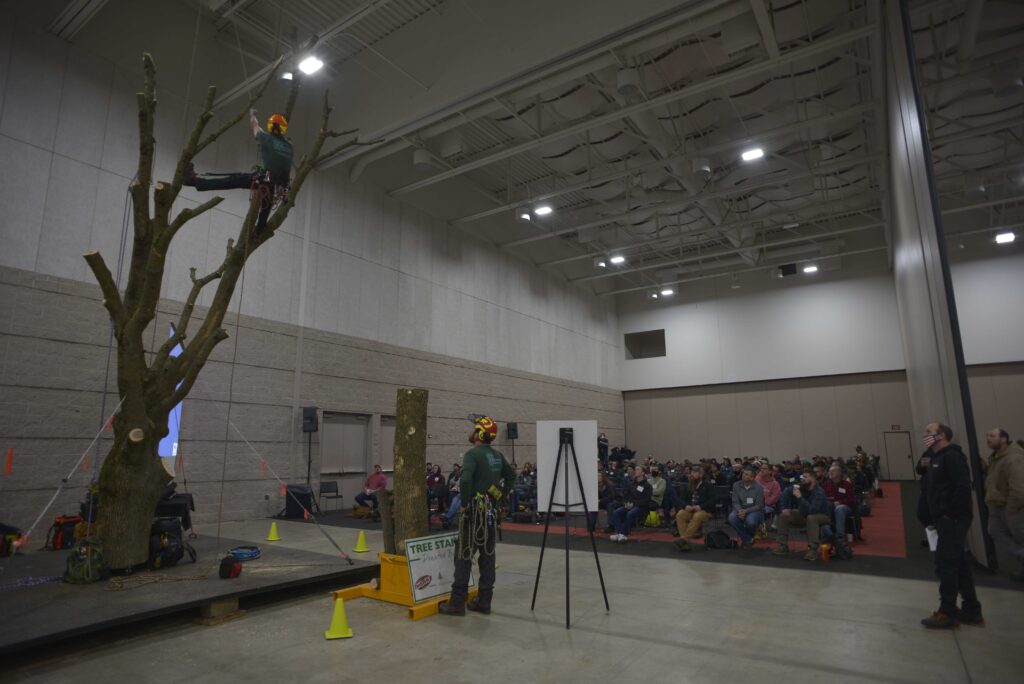 The 2022 Annual Statewide Wisconsin DNR/Wisconsin Arborist Association (WAA) Urban Forestry Conference, "Looking Forward, Not Backwards, to Our Days in Arboriculture!" was held in Green Bay on Feb. 20, 2022.
We proudly announce that the conference hosted 435 community foresters and administrators, professional arborists, green industry professionals, nonprofit staff and students, following all COVID-19 protocols and related attendance restrictions. Those in attendance gathered to network, learn and discuss important concepts in urban forest management and practices in arboriculture.
DNR staff and the WAA developed a program designed to enrich arboriculture and urban forestry knowledge in the industry statewide. This year, presentations included but were not limited to:  
Soil and Site Evaluation for Tree Planting

Planning for the Next Three-Letter Urban Tree Canopy Changer

How to Sustainably Approach Community Tree Design and Management

Forestry Partnerships with Evolving GIS Tools

Trees and Construction

Tools and Approaches for Planning for Community Trees

Trending Tree Insect Issues
There was a broad selection of booths in this year's Exhibit Hall, which featured the Climbers' Corner and Practical Arborist Solution Sessions. Continuing Education Units and Certified Treecare Safety Professional credits were available for qualifying presentations.
There were plenty of opportunities for networking and socializing, with the Wisconsin Urban Forestry Council hosting an enjoyable session of ArborMaster Trivia during the first evening. The event's final day included the annual awards ceremony, a joint celebration shared by the Wisconsin Urban Forestry Council and the WAA awards program. Heather Berklund, DNR Chief State Forester, provided a welcome address to participants, emphasizing the strong partnership between the DNR and the WAA and the entire urban forestry community.
The 2022 WAA/WDNR VIRTUAL Annual Conference offers additional learning opportunities, which are available for viewing until March 31, 2022. This is a professionally recorded, repeat performance of the in-person conference. The recordings provide an improved experience over last year's virtual offering and allow participants to watch sessions at their own pace. It includes around 30 hours of virtual learning and engagement, with approximately 30 continuing education credits available through online quizzes.
The conference is a premier event for regional and Wisconsin industry professionals to see the latest arborist gear, nursery equipment, tree inventory systems and expand their arboriculture knowledge. DNR Urban Forestry staff were again active participants in this year's conference, from serving on the planning team, giving presentations, serving as session moderators and assisting with publicity.
(Visited 132 times, 1 visits today)