By Sara Minkoff, DNR Urban Forestry Council Liaison, Sara.Minkoff@wisconsin.gov or 608-669-5447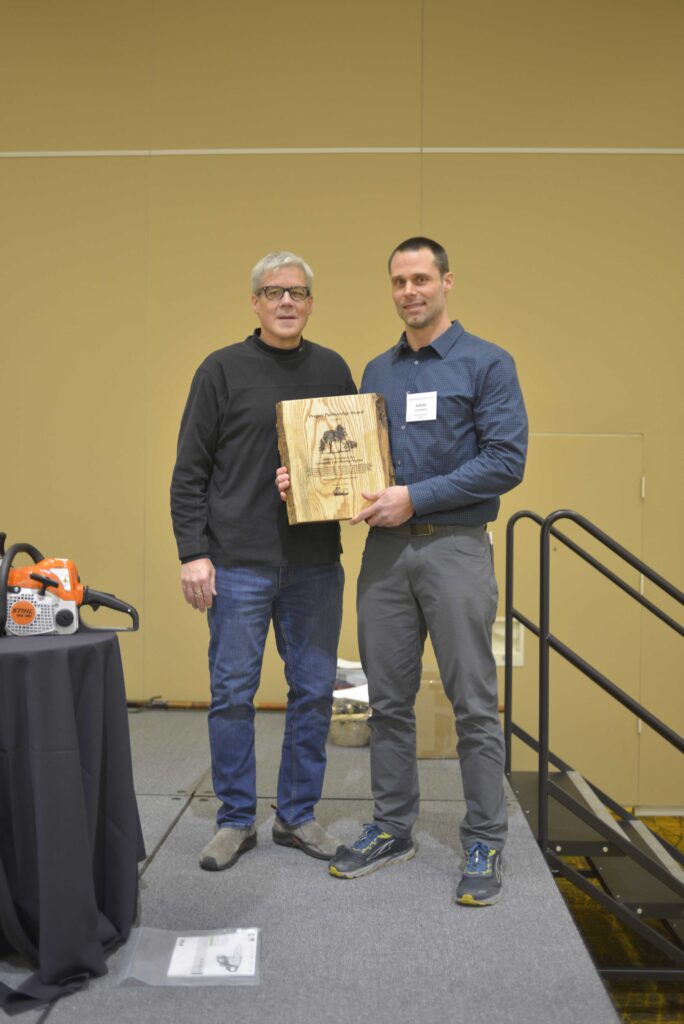 The Wisconsin Urban Forestry Council recently announced their annual awards honoring those dedicated to protecting, preserving and increasing the number of trees that line city streets, fill community parks and enhance neighborhoods throughout the state.
The Wisconsin Urban Forestry Council advises the Wisconsin Department of Natural Resources (DNR) on the best ways to preserve, protect, expand and improve Wisconsin's urban and community forest resources.
"The Urban Forestry Council Awards honor individuals, organizations and communities for their tireless work and commitment to trees and the plethora of benefits they provide. It's such incredible work that people are doing in communities of all sizes across the state to support healthy community forests," said Linda Cadotte, Wisconsin Urban Forestry Council award committee chair.
"Every year, the awards committee closely reviews many quality nominations. It's an honor to learn more about all the work happening around our state and select the award recipients," Cadotte said. "We continue to be ever-so-grateful for all the impressive work and commitment to forestry shown by these recipients."
This year's recipients were announced at the 2022 Wisconsin Arborist Association/DNR Urban Forestry Conference on Feb. 20-22, 2022. The categories and winners are:
Next Gen Award
The Next Gen award is the newest award category. It recognizes organizations or individuals working to inspire and educate the next generation of citizens engaged with their urban forests through projects, activities and various additional contributions. These inspiring adults will support the future growth and development of the field by encouraging these youth to become the next generation of urban forestry professionals and their supporters. Eligible programs engage youth through age 18.
The Mequon Nature Preserve's Environmental Education Programming was recognized as a key player of ecological success, providing students of varied backgrounds, ages and abilities with immersive, engaging and practical lessons in ecology and methods of applying this knowledge in their backyards. The educational team strives to foster environmental empathy and motivate participants to collaboratively advance Mequon Nature Preserve's 150-year Master Plan of restoring the land.
The Mequon Nature Preserve also partners with local schools, universities and organizations for specialized educational experiences on active land restoration and green-industry promotion. During the pandemic, Mequon Nature Preserve's education team produced short educational videos, virtual field trips, land restoration project updates and digital craft and story times to continue to foster environmental stewardship.
In the wake of a post-pandemic world, with a renewed appreciation for green spaces, the team has combined digital and in-person educational programming to promote the ease, efficacy and necessity of planting trees and forestry. The resulting feedback has inspired an increase in requests to plant trees from volunteers and donors alike, confirming the effectiveness of the programming on public interest in forestry and restoration.
Project Partnership
Recognizing outstanding projects utilizing partnerships to benefit our urban forests.
Johnson's Nursery's Community Tree Planting Program was recognized for developing effective partnerships with schools, businesses, nature centers and individuals to enhance the area's urban canopy. Having celebrated over 60 years of shaping the Midwest's green industry, Johnson's Nursery has demonstrated how working together brings enormous advantages for the urban forest and the people living among it.
Johnson's Nursery grows a diverse plant inventory on over 600 acres in southeastern Wisconsin. Under the leadership of employee Robert Dummert, the Community Tree Planting Program has participated in tree planting events at the Forest Exploration Center and several schools and nature centers.
Innovation
Recognizing the creativity, commitment and success of urban forestry efforts. This year there were two deserving awardees.
Elton Rogers, the arboriculture instructor at Milwaukee Area Technical College (MATC) Mequon Campus, was recognized for his efforts through the Arborist Apprenticeship program. The program develops unique educational experiences for people entering the world of arboriculture.
For the past several years, Rogers has been instrumental in the program's growth in the Milwaukee area by planning and developing an exceptional workforce training program that brings awareness of the forestry industry to a new, diverse and underrepresented audience. While planning and teaching in both the apprenticeship and the workforce training programs, Rogers still finds time to teach his regular traditional arboriculture classes at MATC.
Cedarburg Green was formed as a non-profit organization for neighbors to support urban forestry in Cedarburg. The organization has demonstrated the power of community to create a beautiful, sustainable and healthy landscape by creating meaningful relationships among community residents, businesses and others.
The group responded to the city's 2020 tree replacement budget of $0 by declaring 2020 the "Focus On Trees" year in Cedarburg and implemented an aggressive public awareness and tree planting campaign. This campaign was multifaceted and included fundraising, tree sales, grant writing, educational activities and media attention. This organization serves as an example to other communities to create effective programs through partnerships and collaborations to benefit the public.
Leadership
Recognizing an individual or elected official at the county or local level of government who has made an outstanding recent contribution to urban forestry in Wisconsin.
The Leadership Award was presented to Andy Sims, Assistant Director of Operations for Parks, Recreation and Forestry in the City of Wausau and Marathon County, for his leadership in community urban forest management. Sims showed excellent leadership when he connected Wausau's urban ash management program with Urban Evolutions of Appleton. The ash management plan involved treatment, removal and replacing ash trees in boulevards, parks and other city-owned property, but Sims took it one step further.
This project involved partnerships with the DNR, which had a contact with Urban Evolutions of Appleton. Urban Evolutions uses new and reclaimed materials to design furniture, fences, flooring, doors, wall panels and more for retail, residential, hospitality and commercial projects.
They negotiated a contract to enable Wausau's ash logs to be removed from area parks and sold to Urban Evolutions. The project used proceeds from the log sales to plant new trees.
Sims is also developing a partnership with the Wausau School District to use the wood with the sawmill at the school to give students an opportunity to learn about the sawing, drying and utilizing process.
Learn more about the Wisconsin Urban Forestry Council Annual Rewards, see past winners and nominate your community tree champion online.
The nomination deadline for next year's awards is Oct. 31, 2022. However, the Wisconsin Urban Forestry Council accepts nominations for community tree champions at any time.
(Visited 151 times, 1 visits today)