By Scott Lyon, DNR Forest Products Specialist, Green Bay
Conservation partners, including Ducks Unlimited, Wisconsin DNR, U.S. Fish and Wildlife Service, City of Green Bay and UW-Green Bay, worked together to construct a woody breakwater to restore and enhance wetlands for wildlife and more.
The project took place in fall 2021 at the mouth of Duck Creek, offshore from the Ken Euers Nature Area in Green Bay, Wisconsin. The project involved several years of planning that brought together a team of fish and wildlife biologists, wetland and aquatic plant scientists, foresters and engineers to discuss ideas and plans to restore wetland vegetation in the Duck Creek Delta.
Steve Kaufman, DNR Forester on the Oconto Falls team, and Scott Lyon, DNR Forest Products Specialist with Forest Products Services, participated in technical advisory committee meetings and assisted in connecting the project coordinators with woody materials to be used in the structure.
The resulting breakwater structures were predominantly trees rather than a traditional breakwall composed of mostly rock and is one of the first for the bay of Green Bay and the broader Great Lakes system.
The project design utilizes woody material (trees) to build a series of three in-water structures to slow wave action from the bay and protect the nearshore wetland vegetation behind it. Piles were driven into the sediment for placement and anchoring.
Root wads and slash were cabled together, placed in a cross-hatch design, attached to the piles and anchored with boulders. Almost 300 trees were used to construct the breakwater, including Norway and white spruce harvested locally from a treeline removal project in Door County's Gardner Swamp Wildlife Area.
In addition, some of the cottonwood trees removed from nearby dikes at the Ken Euers Nature Area during a marsh restoration project in 2019 were repurposed on-site in the structure. Both sites benefitted from improved utilization post-harvest rather than the more frequently selected low-value options such as chipping.
The breakwater itself will also provide important woody habitat for fish and wildlife among the submerged branches and on the exposed portions of the structure. Wood utilization for habitat projects is a viable option to keep low-value wood local, reducing transportation and processing costs while benefitting local fish and wildlife and outdoor recreationists.
The Fox River-Green Bay Natural Resource Trustee Council, Fund for Lake Michigan, National Fish and Wildlife Foundation's Sustain Our Great Lakes program and Ducks Unlimited funded the project.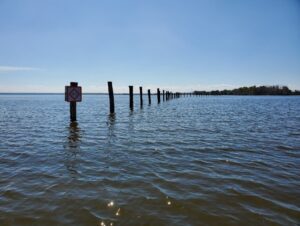 LEFT: Trees utilized in breakwater. (Photo credit: Amy Carrozzino-Lyon, UW-Green Bay). 
BELOW: Aerial view of breakwater constructed of trees. (Photo credit: Ben Young, NEW Water).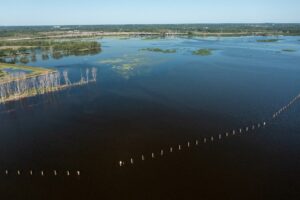 (Visited 187 times, 1 visits today)