The Wisconsin Department of Natural Resources (DNR) just released a new publication: Results of the 2020 Diverse Urban Species Survey.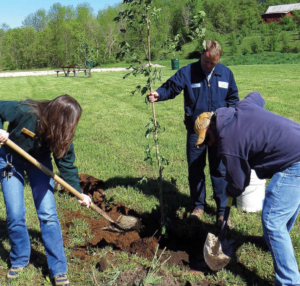 You may have participated in this survey led by DNR Urban Forestry Coordinator Don Kissinger in 2020 (if so, thank you!) Wisconsin municipalities with more than 2,500 residents were asked a series of questions about the types of trees they prefer to plant (such as root stock type and caliper size), which lesser-used species they had successfully planted, which species they cannot find but would like to plant, and whether they use a gravel bed.
The first two pages summarize the key findings of the survey, and the rest of the report describes the findings in depth.
We would especially like to highlight the list of 30 lesser-used species included in the survey and the success ratings reported by communities. You may find some new trees here that are worth trying (but remember to research hardiness zones and plant only a few trees at first).
If you have difficulty finding the species you'd like to plant, please let your local nurseries know (and perhaps refer them to this publication).
We hope you find this data useful! If you have questions, comments, or would like to share your experiences with the species discussed in the report (or any other species you've experimented with), please contact DNR Urban Forestry Coordinator Patricia Lindquist at (715)574-1314 or patricia.lindquist@wisconsin.gov.
(Visited 212 times, 1 visits today)