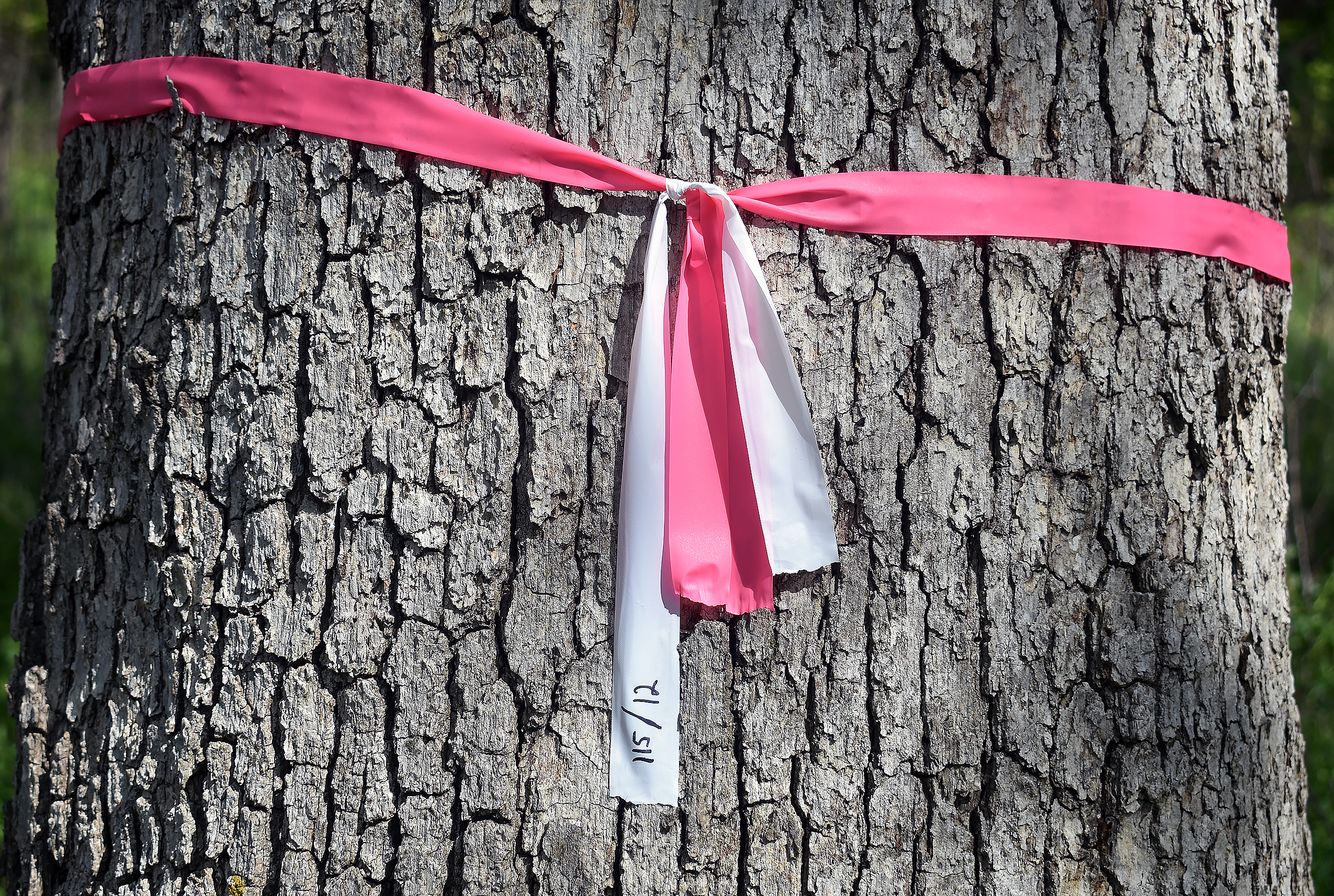 Art Kabelowsky, DNR Forest Health outreach and communications specialist
Arthur.Kabelowsky@wisconsin.gov or 608-335-0167
LAKE GENEVA, Wisconsin — Fifteen employees of the Wisconsin Department of Natural Resources gathered at Big Foot Beach State Park on May 16 to learn more about using injections of systemic pesticides to protect the health of high-value trees at state properties.
Ten Wisconsin State Parks employees and five members of the DNR's Forest Health team met with representatives of Rainbow Ecoscience and Bartlett Tree Experts to witness a demonstration of best practices for tree injections.
The demonstration featured the Q-Connect injection system currently in use at state properties. The system is sold and supported by Rainbow Ecoscience, and the demonstration was led by Lee Fredericks, the Western Great Lakes territory manager for Rainbow. Fredericks was assisted by arborologist Cory McCurry.
Also on hand to answer questions and treat multiple trees on the property were Bartlett Tree Experts representatives Dr. Chad Rigsby, a host-insect ecologist, and Jacob Kulp, an arborist.
Fredericks showed the State Parks and Forestry employees how to use a high-helix drill bit to make clean, small injection holes at ground level, and how to use the Q-Connect system to inject the desired pesticide or fungicide into the trees safely and with minimum stress on the tree.
"We are creating a wound near the base of the tree, but we are not putting chemicals outside the tree," Fredericks said, adding that injecting at the flare root helps the small wounds to heal over faster.
Rigsby explained how to determine the amount of pesticide to be used on a tree, based on its diameter at breast height (DBH), and how to determine the number of injection holes to drill.
Injection of systemic pesticide is one of several treatment options that can be used on trees, based on the threat to be managed, the size, condition, and location of the tree.  DNR forest health specialists recommend specific treatments considering minimizing exposure and impact on non-target insects, animals, and people visiting the property in addition to efficacy.
Dr. Andrea Diss-Torrance, invasive forest insect program coordinator for the DNR's Forest Health team, helped to organize the training.
"Trees in campgrounds and picnic areas of our State Parks and Forests provide the woodland experience visitors come to these state properties to enjoy, but they are aging and experience stresses more similar to street trees than forest trees," Diss-Torrance said.
"Because they are so valuable and impossible to replace, it makes sense to look at treatments currently used in communities and around residences where trees are similarly valuable."
Diss-Torrance emphasized that DNR employees could be trained to perform the treatments. "Arborists can give us new options to maintain trees in our high use areas," she said.
(Visited 63 times, 1 visits today)