By Alex Anderson, forest products specialist, Rhinelander
The devastation left behind in forested areas after a severe weather event can seem overwhelming. In order to further understanding of how storm-damaged forest and woodlot salvage harvests differ from traditional timber sales, we have compiled information that will, hopefully, help landowners affected by the recent rash of severe weather events in Wisconsin deal with their damaged woodlands more confidently.
Wood Degradation
Many of the downed trees from July's severe weather are red pines (Pinus resinosa). Pines, particularly white pine (Pinus strobus) and red pine in the Lake States region, are susceptible to staining when they are harvested or killed during a weather event but are not processed quickly enough. The discoloration is a result of microscopic fungi that manifest as a pale, blueish stain in the wood often called "blue-stain" or "sap-stain." Though there is a small, decorative market for blue-stained pine—sometimes referred to as "denim pine"—it is generally undesirable. Hardwood species are also susceptible to blue stain fungi. End coating logs with a wax barrier may reduce the risk of staining and end checking.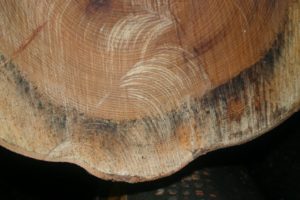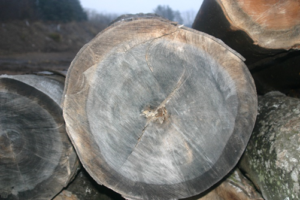 These logs show blue staining. Continue reading "Salvaging Storm-Damaged Forest Products" →