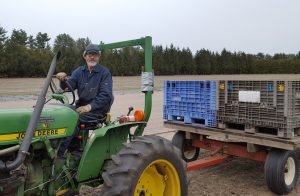 DNR's reforestation program is busy harvesting seedlings from our nursery fields and shipping them to woodland owners throughout the state. If you own forest land in Wisconsin and still need seedlings for planting this spring, contact Carey Skerven (carey.skerven@wisconsin.gov) as soon as possible or call the Wilson Nursery (608-375-4123) in Boscobel or the Griffith Nursery (715-424-3700) in Wisconsin Rapids. We will do our best to fill your orders.  Here are the species still available as of April 3:
Conifers: Jack pine 1-0, red pine 2-0, white pine 2-0, tamarack 2-0, and white cedar 3-0.
Hardwoods: Aspen 1-0, river birch 2-0, butternut 1-0, black cherry 1-0 and 2-0, hackberry 1-0, bitternut hickory 2-0, shagbark hickory 3-0, hard maple 2-0, red maple 2-0, silver maple 1-0 and 2-0, red oak 2-0, and black walnut 1-0.
Shrubs: Chokecherry 1-0, ninebark 1-0, and American plum 1-0.
For more information, contact Jeremiah Auer at (715) 459-1999 or jeremiah.auer@wisconsin.gov
(Visited 234 times, 1 visits today)