Wisconsin Woodland Owners Association group of women landowners aka The Women of WWOA, was created to offer educational activities and a supportive atmosphere for women landowners to learn more about caring for their woodlands. The group gathers two to three times a year to spend a day learning from each other and natural resource professionals.
The next gathering will be Saturday, May 5th form 9 a.m. – 3:30 p.m. at Mueller's Quarry Tree Farm in Arcadia, WI.
Get ready for a fun day of learning, walking, listening, and sharing…
Walking the land with UW-Extension Assistant Professor Geology, Jay Zambito. He is currently conducting research in the Arcadia Driftless Area
Hot picnic lunch- yum!
Meghan Jensen, WDNR Conservation Warden in Trempealeau County will discuss her work and answer questions about woodland concerns.
Afternoon sampling in erosion retention ponds with UW-Extension's Randy Mell.
Part of the day will be indoors and part outside, so dress comfortably for both. Think woods casual- jeans, boots, long sleeves, rain gear, hat, etc.
$20/person includes materials, breaks and lunch. Click here to register.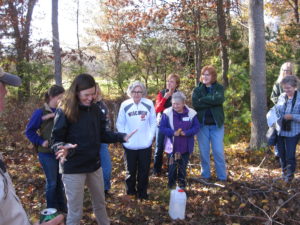 (Visited 87 times, 1 visits today)