How does a community manage to increase its street and park tree species diversity by 445% without spending ANY public funds to purchase trees?!! Look no further than the Village of Cambridge, WI (pop. 1,500) for an answer.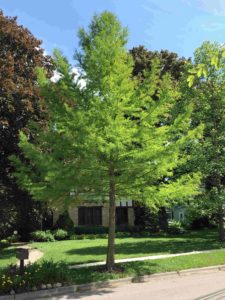 It all began with one man who loves trees. As a young boy, Jay Weiss admired the old, stately elm trees and was saddened by their loss from Dutch elm disease. Decades later, he learned about emerald ash borer and became alarmed at the high number of ash trees his community would soon be losing. Jay wanted to do something about this. Diversity and new tree plantings would be his focus. The idea was to have replacement trees in the ground and on their way to maturity before the ash trees were all removed.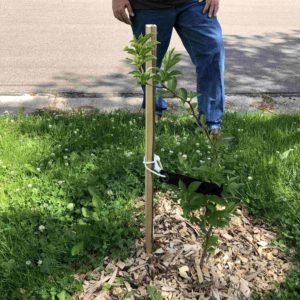 The Cambridge Tree Project (CTP) started with nine unique trees Jay purchased at closeout prices in the fall of 2007. These included Kentucky coffeetree, catalpa, chinkapin oak, bald cypress, horsechestnut, Ohio buckeye and sycamore. The only problem was, Jay didn't have room for them all. Neighbors soon heard of his plight, and offers to buy the trees quickly came in. Some folks even paid more than the actual cost and asked that the money be put aside for more trees to be purchased next year. And so began the idea of the CTP. Trees would be purchased at wholesale prices and sold for slightly more. Proceeds would pay for the trees planted on public property (parks, street terraces and school grounds). The goal was to have 1,000 additional contributing canopy trees established by 2020. CTP met their goal this spring, one year early.
The existing relationships between Jay and several village employees and board members helped this project come to fruition. Jay approached the Department of Public Works. He asked if village staff could plant 80 trees per year on public property if the trees were gifted to the village. This is a high number considering the work mainly falls on 2 of their 4 full-time DPW staff, but they are smaller container and bareroot trees, not big heavy B&B trees. The department and village agreed, excited about the opportunity to increase canopy and diversity. The CTP officially registered as a non-profit in February 2007.
Each spring, CTP conducts a tree sale. They purchase bare root and potted trees (anywhere from 2-12 feet tall) at wholesale prices. The trees are sold at a slightly higher price to village residents and people from surrounding communities for planting in their yards. The proceeds pay for trees planted on Cambridge's public property (parks, street terraces and school grounds). Village staff do the planting. To stretch dollars further, the trees planted on public property are just 3' tall on average. To have some control over the selection process, CTP provides one of several lists to the homeowner for them to select their terrace tree from. This helps create 'ownership' of the tree, so people are more apt to water and take care it. The lists are specific to the terrace situation, i.e. large canopy tree list, low growing tree list, narrow tree list… If a resident prefers a 5-8' tall tree, they are required to pay for the additional cost of the larger tree. With 12 years of this program under their belts, Cambridge residents are familiar with seeing the smaller trees and realize just how quickly they grow. The trees are staked and make it throughthe winter's snow plowing without damage.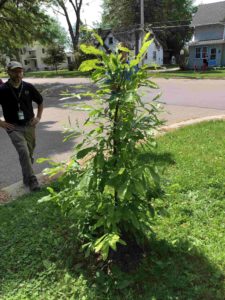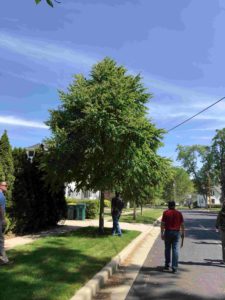 The astonishing increase in diversity makes this project even more successful. It increased Cambridge's species diversity from 35 to 156 species. Maple and ash genera used to represent 70% of their inventory. Now that number is down to a more acceptable 18%. Who would believe oak, sycamore and buckeye are the three most requested terrace trees? Redbuds are more requested than tree lilacs. Included in the top ten best sellers at the tree sale are horsechestnut, gingko, sycamore, serviceberry and Pagoda dogwood.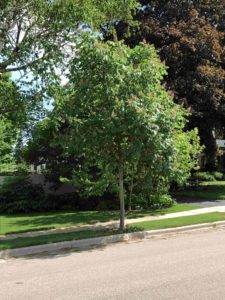 Jay also tracks success rates and growth of all the trees CTP has planted. This information is very valuable, especially considering the extensive use of many unique species. Jay has tracked 1,140 planted trees and has over 4,000 tree measurement data points over the past 12 years on public properties. The overall success rate is 84%. Catalpa, crabtree, musclewood, ironwood and hackberry all had greater than 90% success rates. Catalpa and London plane were the fastest growing trees. You can find a spreadsheet of success and growth rates here.
Just how much work and how many people are required for such a successful project? Throughout the year, Jay works a couple hours a week on average. Things ramp up in spring. Jay's hours increase, and additional help is needed to staff the tree sale (4 Saturdays in April and May this past year). Generally, 2-3 people are needed to staff the event for the day. Jay gets help from passionate residents, family and friends. CTP ordered 900 trees this past spring, with 750 sold as part of the tree sale and 111 planted on village property. This included Cambridge's 1000th additional contributing canopy tree from the CTP.
More information can be found at Cambridge Tree Project or by contacting Jay Weiss Volunteer Village Forester at info@cambridgetreeproject.org or 608-513-1977.  
(Visited 855 times, 1 visits today)