Wisconsin Active Together names three new communities! Check out their work to advance strategies for safe places to walk, bike and be active!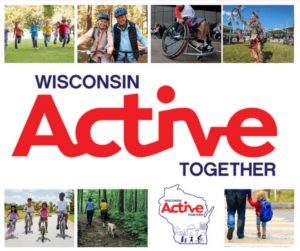 Congratulations to the newest Wisconsin Active Together communities: Kenosha County, Washington County and the City of Jefferson.
Visit Wisconsin Active Together (www.wiactivetogether.org) to see strategies and ideas to foster health by improving where we walk, bike and are active. While you're there, check out the profiles for 24 communities now reaching over 2 million Wisconsinites. #WIActiveTogether
"It's an opportunity to work locally while being part of something larger happening across the state," Jen Walker, healthTIDE Active Communities team lead and Wisconsin Active Communities Alliance coordinator said. "We want to celebrate local progress in promoting opportunities to increase physical activity through community design that creates safe ways to walk and bike and more places to play and be active."
The statewide partners who have co-developed and/or support the Wisconsin Active Together campaign are numerous and include healthTIDE, the League of Wisconsin Municipalities, the Wisconsin Active Communities Alliance (WACA), the Wisconsin Department of Health Services (DHS), the Wisconsin Department of Natural Resources (DNR), the Wisconsin Economic Development Corporation (WEDC) and Main Street Communities, the YMCA, 1000 Friends of Wisconsin, Rural Wisconsin Health Cooperative, the Wisconsin Bicycle Federation, and the American Planning Association Wisconsin Chapter. For a complete list, visit WIActiveTogether.org.
(Visited 37 times, 1 visits today)