By Mary Bartkowiak, invasive plants specialist, Rhinelander, Mary.Bartkowiak@wisconsin.gov, 715-493-0920
There's so much to enjoy about fall and so many activities to take in before the blanket of snow changes our landscape. Something to keep in mind is that the introduction of invasive plants can play a role in changing the landscape, too.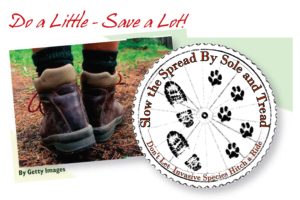 Avoid introducing invasive seeds to new areas by arriving clean and leaving clean regardless if you are hunting, hiking, fishing, trapping or harvesting trees. It's a quick easy step to make sure your shoes are free from soil, seeds and other plant debris, but what about those ATV, truck and heavy equipment tires? You'd need a pretty big boot brush for those tires, but what about spraying them down with a hose or pressure washer?
A little bit of time spent cleaning equipment can prevent an unfortunate introduction to your favorite woodland or reduce the number of seeds introduced by your visit. "Slow the spread by sole and tread" was a campaign from a several years ago, though it still rings true today. All of us can take small steps to prevent the spread or introduction of invasive plants that threaten our woodlands.
As the weather turns brisk and much of the landscape changes from green to gold, enjoy these waning days of fall and take a little extra time to be mindful of what might be tagging along as you hunt, hike, ride or work in the woods.
(Visited 471 times, 1 visits today)