It's Wildfire Prevention Week, and we're here to remind you that spring in Wisconsin is fire season!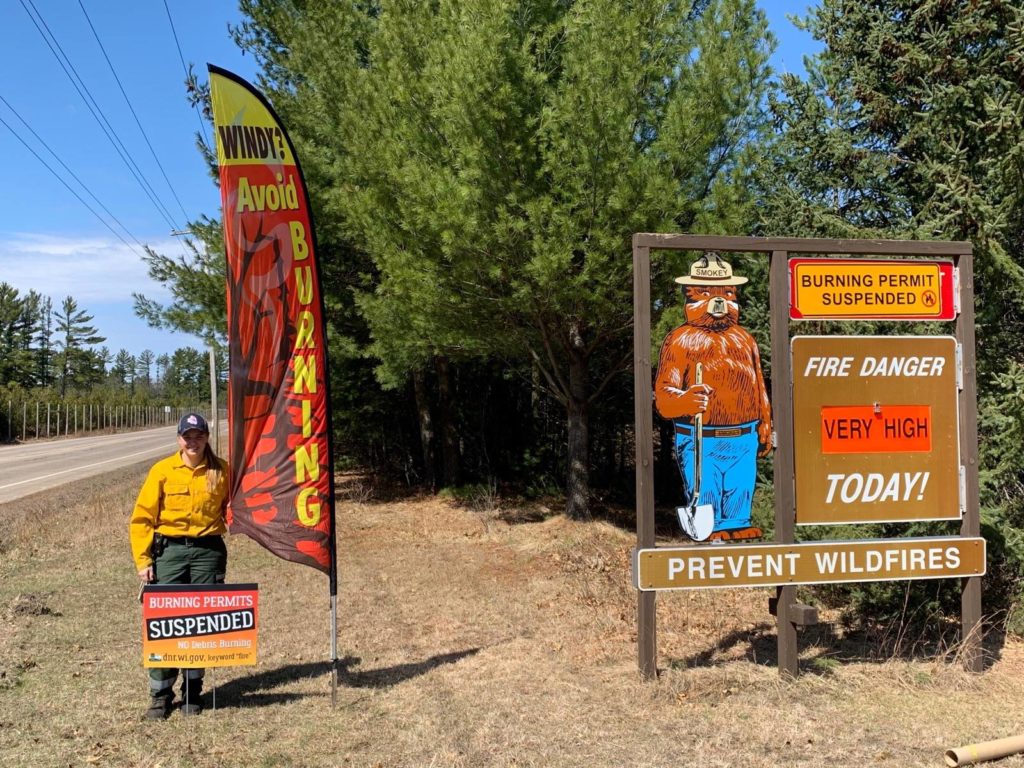 In the last week, there were nearly 50 wildfires across the state. Strong, gusty winds, low humidity and dry conditions mean that fire danger throughout Wisconsin remains Very High today and tomorrow (4/20-4/21). Although rain is in the forecast, grasses and other vegetation can dry out very quickly allowing fires to escape and grow rapidly.
Wildfires pose a serious threat to public safety, property and our natural resources.  Over 98% of all wildfires in Wisconsin are caused by people.  Debris burning is the No. 1 cause of wildfires in our state. If danger is elevated, high or very high, avoid burning of any kind, including campfires. Be aware of sneaky causes of wildfires – like sparks or hot exhausts systems from logging, farming equipment and off-road recreational vehicles.
On April 18, 2020 a 234-acre wildfire occurred in Juneau County near Necedah.  The wildfire burned on private property and on the Necedah Wildlife Refuge. The wildfire was caused by someone debris burning in a campfire ring. Five structures were threatened but were saved.  Residents needed to be evacuated but were allowed to return home late that afternoon.  Fire Danger was Very high.
DNR burning permits continue to be suspended in Wisconsin.  All burning of debris in barrels, burning of debris piles on the ground, grass or wooded areas, in DNR protection areas, is prohibited at this time
Remember, wildfires have many causes.  Don't be one of them!
Stay up-to-date on the fire danger and check for current wildfire activity at dnr.wi.gov, search "fire"  https://dnr.wi.gov/topic/ForestFire/
(Visited 87 times, 1 visits today)