By Patricia Lindquist, DNR Urban Forestry Communications Specialist, patricia.lindquist@wisconsin.gov, 608-843-6248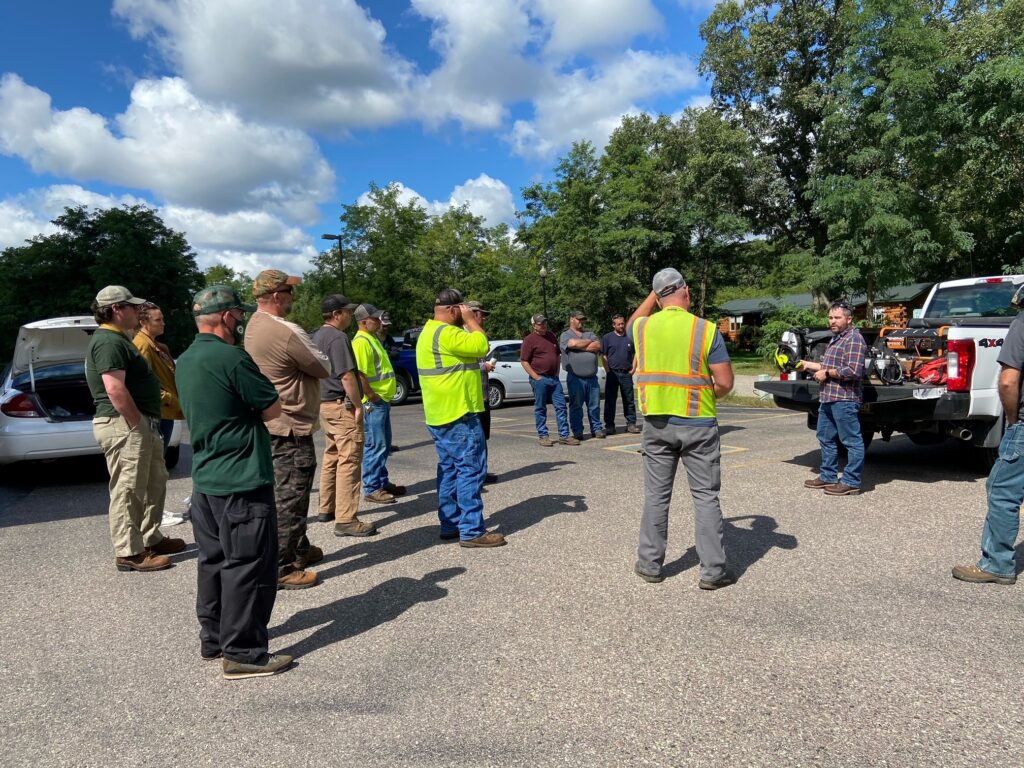 Part of our mission at the Wisconsin Department of Natural Resources (DNR) is to bring community foresters together to learn from one another and to provide training opportunities. Recently, one village administrator took it upon himself to do just that within his county.
We were thrilled when Roger Herried of Necedah approached us with his plans to hold a Juneau County Area Urban Forestry Seminar this fall. Roger's intent was to provide much-needed training for his public works department and other small communities that don't have a lot of resources. With some help from the DNR and other partners, Roger hosted a well-rounded, day-long program to help strengthen urban forestry programs in his area.
The seminar was held on Sept. 9 at the Necedah Community Siegler Memorial Library. Twenty-four people (including presenters) attended the seminar. Participants came from eight communities: City of Adams, City of Black River Falls, City of La Crosse, City of Mauston, City of New Lisbon, Fort McCoy, Town of Necedah and Village of Necedah.
The program featured four speakers. DNR Forest Health Specialist Todd Lanigan provided an overview of the insect and disease problems facing Juneau County. City of Mauston Parks and Forestry Superintendent Jordan Wilke covered a wide range of essential topics, such as personal protective equipment, pruning for clearance and storm damage, utility tree cutting, diseased wood disposal and stump grinding and removal. Bluestem Forestry Consultant Kelli Tuttle described the process of creating and updating a tree inventory. DNR Urban Forestry Coordinator Tracy Salisbury provided an introduction to DNR Urban Forestry grants. Other funding sources were also discussed. After a delicious homemade lunch, Jordan led a pruning and tree evaluation demonstration. The instructors did a terrific job of engaging the group and answering questions, and participants enjoyed getting to know one other during lunch and breaks.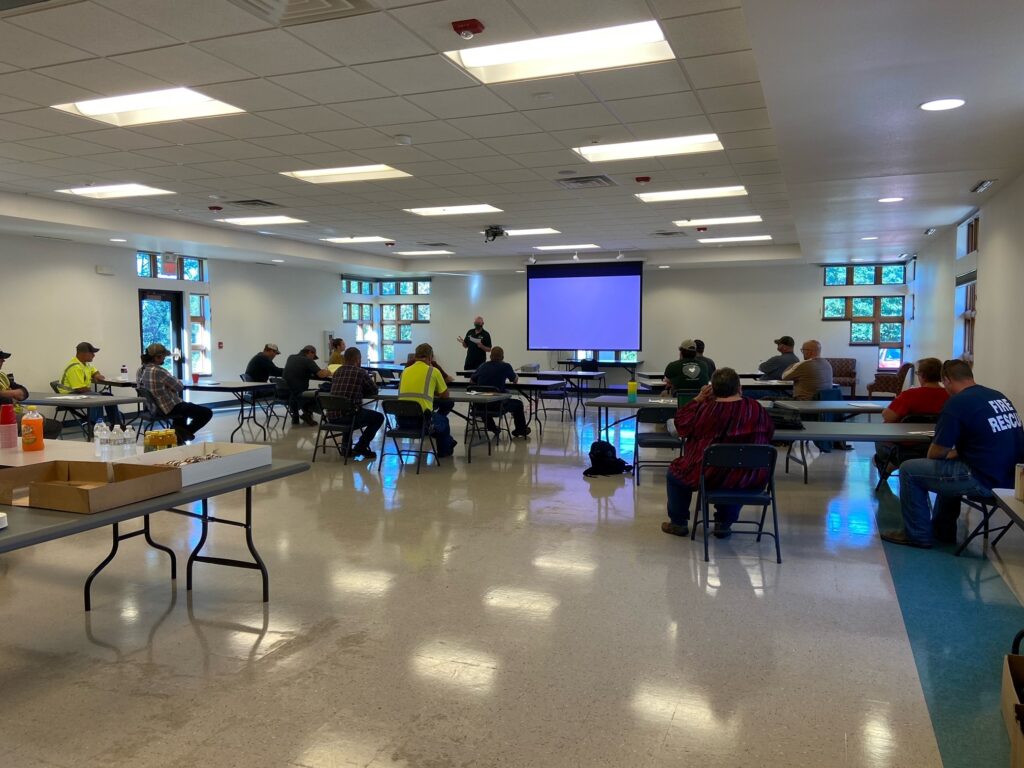 I asked Roger to describe his inspiration for the seminar, and whether he plans to host any future trainings. Here are his responses:
How did you come up with the idea to host this seminar? What inspired it?
"I wanted to have a training for my public works department that offered classroom and field experience. I also wanted other communities to have the same opportunity. Many times, small communities have limited budgets for training. We also expect our employees to do a lot of different tasks, and we try to find the training that is appropriate to provide them the right skills to do those tasks. 
"The original list of topics was created based on the needs of small communities. I contacted Jordan Wilke from the City of Mauston, Tracy Salisbury from the DNR and Kelli Tuttle from Bluestem Forestry and discussed the seminar concept. The topic list and the scope of the event did change once I spoke with each of them. We all agreed that we wanted the training to be quality but at low cost to the participants. Everyone I spoke to wanted to help with the program and provide resources to make it happen. Tracy Salisbury reached out to Todd Lanigan and asked if he would provide us an insect and disease problem presentations.  Todd jumped at the chance to come to Necedah and present."
What did you hope to accomplish?
"I wanted to have a training atmosphere that encouraged interaction between the attendees and presenters. In my opinion, the presenters did an excellent job getting the audience involved in the discussion. At breaks, the discussions that took place made it clear that the attendees were engaged in the seminar.
"It was important that participants gain skills to help them in their jobs. Another goal was to have the training and travel time for the participants take less than eight hours. Holding the seminar locally allowed us to do that. This way, communities could provide training within a normal workday."
Where do you see things going from here? Any future seminars or meetings?
"I would like to give other communities the opportunity to host a seminar if they want to. If they prefer not to host a seminar, I would be willing to host another seminar.
"I think it is key to get the DNR staff, consultants, certified arborists and local communities involved in the seminar planning. 
"Jordan Wilke, the City of Mauston's Superintendent of Parks, Forestry, & Cemetery, has some tree work scheduled that would provide great learning opportunities. He also has some other ideas for training that would help smaller communities provide public works staff with quality local training. Jordan is ISA Certified and does an excellent job with presenting and hands-on."
Why is urban forestry important in small communities like Necedah?
"We received a grant several years ago to complete a tree survey and develop an urban forestry plan. We have incorporated tree removals and tree plantings in our projects. We have limited staff, but we continue to try to educate the village board and community on the benefits of trees. We have reached out to the after-school program to include them in tree planting events. 
"A good urban forestry program educates the public as well as shows progress (new tree plantings, pruning, and removals)."
What are the biggest challenges that small town urban forestry programs face?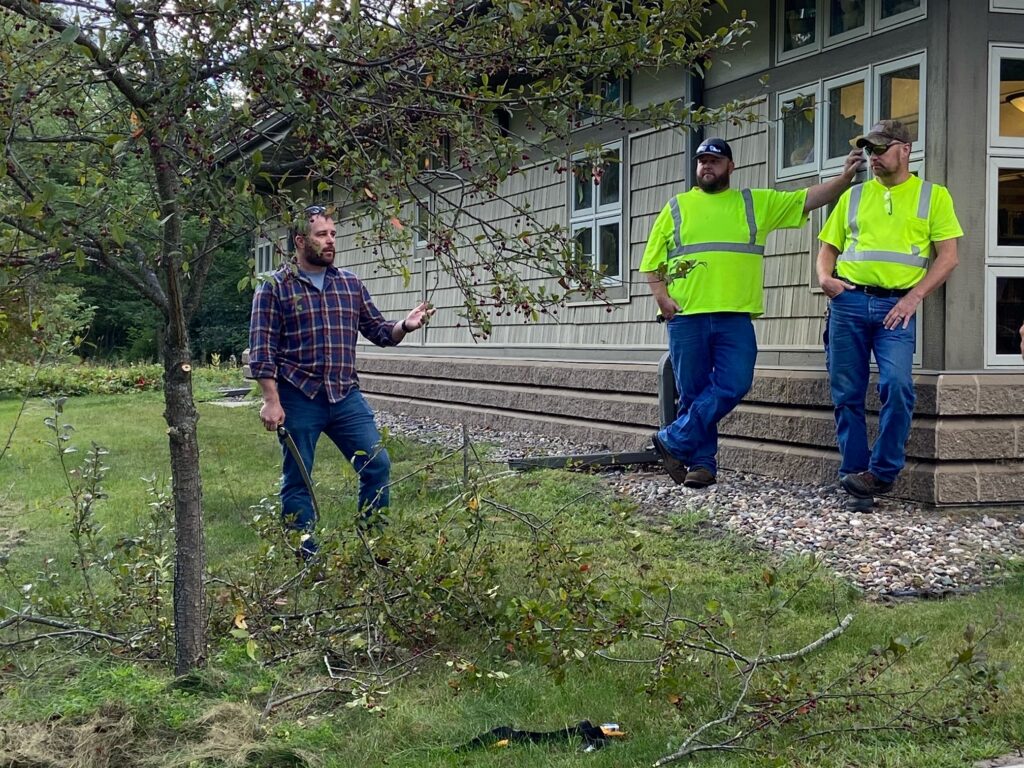 "The limited staff in small communities. We have to realize that we can only do so much with the resources we have. We only have three public works staff. The public works staff is responsible for water, sewer, storm sewer, parks, facilities/buildings, streets and dam operations. It is important to prioritize the work and try to provide adequate time to the urban forestry program. 
"The other challenge is funding. Small communities like Necedah have limited budgets. Many times, grants allow us to use force account (our own employees and resources) to help with the local match but as I mention above, staff is also limited."
Thanks, Roger, for hosting the seminar and taking the time to answer our questions. We're inspired by your dedication to urban forestry and your commitment to helping your neighbors develop their programs.
For assistance in starting or expanding your local urban forestry program, including grants, training and other resources, please reach out to your Regional DNR Urban Forestry Coordinator.
(Visited 102 times, 1 visits today)